Hispanic People in the U.S. Tend to Be Undertreated for High Cholesterol
Was this helpful?
Recent data indicates the Hispanic community in the U.S. may be undertreated for high cholesterol. Health disparities due to public policies as well as sociocultural and socioeconomic factors may be why Hispanic people lack proper access to medical resources to help prevent and treat conditions related to high cholesterol.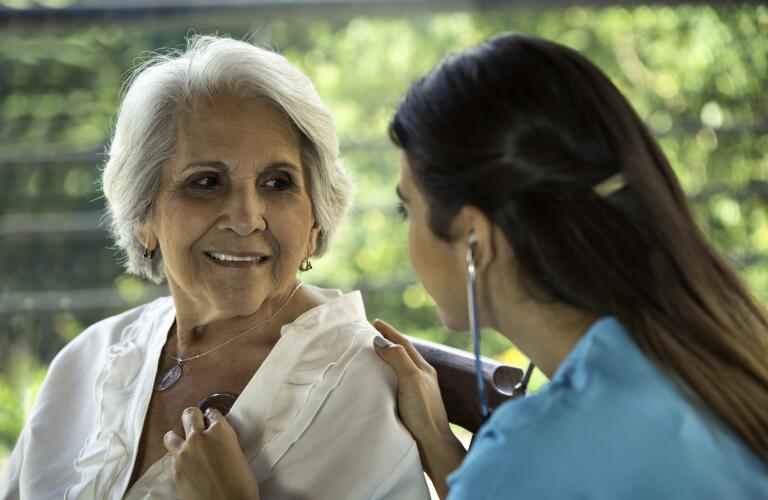 According to the Centers for Disease Control and Prevention (CDC), nearly 94 million United States adults over the age of 20 have high total cholesterol levels. A large percentage of these people are Hispanic; in fact, in a 2014 study, almost two-thirds of Hispanic people surveyed had some sort of cholesterol problem. However, research indicates that Hispanic people may not receive the treatment they need to control their high cholesterol. It can be challenging for people in historically marginalized groups to identify and access healthcare resources. However, learning more about the specific causes and treatments for high cholesterol allows you to find the right type of care.
Your body needs cholesterol to work properly. Cholesterol helps the body build cells and make vitamins and hormones. The liver makes nearly all the cholesterol the body needs. Cholesterol is also eaten in the form of animal products; meat, poultry, and dairy products all contain cholesterol. Your blood circulates cholesterol throughout your body.
However, too much blood cholesterol can become a problem. High cholesterol levels increase your risk for complications such as coronary heart disease, heart attack, stroke, or sudden cardiac arrest. Certain factors increase the risk of complications from high cholesterol. These include your age, your family history, your genetic makeup, and biological sex.
For most, high cholesterol doesn't cause any noticeable symptoms. The results of routine blood tests are usually the first indication that someone has high cholesterol.
A 2015 study examined data from more than 16,000 Hispanic people in the U.S. between the ages of 18 and 74. Almost 44% of Hispanic men and 40% of Hispanic women studied were living with high cholesterol. Overall, these numbers reflect a higher incidence of high cholesterol among Hispanic people compared to non-Hispanic people. However, almost half of individuals studied didn't know they had the condition, and only a third were receiving treatment. Although Hispanic men were more likely than Hispanic women to have high cholesterol, men were less likely to be receiving treatment for their condition. And younger adults, women, lower income adults without insurance, and recent immigrants were less likely than other groups to be in control of their high cholesterol.
More research is needed to explore why Hispanic people in the U.S. don't receive treatment for high cholesterol at the same rates as people of other backgrounds. Barriers to quality care, including lack of access to healthcare or medical insurance, may be contributing factors.
High cholesterol can be managed, usually with a combination of lifestyle change and medications. Eating a heart-healthy diet, getting regular exercise, quitting smoking, and managing stress and other underlying diseases like obesity are key to keeping cholesterol levels in check. Your doctor can also prescribe medication to support your treatment.
Finding a doctor who understands the importance of your individual cultural principles is essential for managing and improving high cholesterol. Talk with your doctor about specific concerns and lifestyle changes. Also, remember you can always ask for an interpreter or additional resources.
It can also be helpful to connect with a registered dietitian, who can help you find ways to eat more healthfully. A dietitian will likely advise eating more vegetables, lean proteins, healthy fats, fiber-rich whole grains, and low-fat dairy foods. A dietitian can guide you in planning healthy meals that fit in with cultural choices, while still helping you learn about nutritional changes that help lower cholesterol levels.
Research indicates that socioeconomic and sociocultural factors can negatively affect the nutritional choices of Hispanic communities. These factors include lower household income, less education, and limited access to quality groceries. Additionally, the Hispanic community in the U.S. is highly impacted by acculturation. Some people may feel the need to change cultural traditions involving food to avoid social rejection. Greater acculturation is linked to a higher intake of highly processed foods, which lack nutrients and may be more likely to contribute to high cholesterol levels.
Embracing cultural foods can be an opportunity to be proactive about cholesterol management while enjoying your favorite recipes. The Latin American Heritage Diet was created by Oldways, a food and nutrition nonprofit organization, in an effort to educate about the benefits of the Hispanic/Latino diet.
Knowing your cholesterol levels is one of the first steps towards managing your health. Talk with your doctor about your medical history, lifestyle choices, and medications that can lower cholesterol.
Was this helpful?