Your Guide to High Cholesterol and How to Lower It
Was this helpful?
High cholesterol, or hyperlipidemia, is when the blood contains too much cholesterol. Cholesterol is a type of fat, or lipid, which is important for a variety of functions in your body. Around 38% of people in the United States have high cholesterol. Your liver makes all of the cholesterol you need to make hormones, vitamin D, and digestive substances. However, you can get extra cholesterol by eating animal products, such as meat, poultry, and dairy.
Read on to learn more about high cholesterol. This guide includes information about how to tell if you have high cholesterol and how to lower your cholesterol.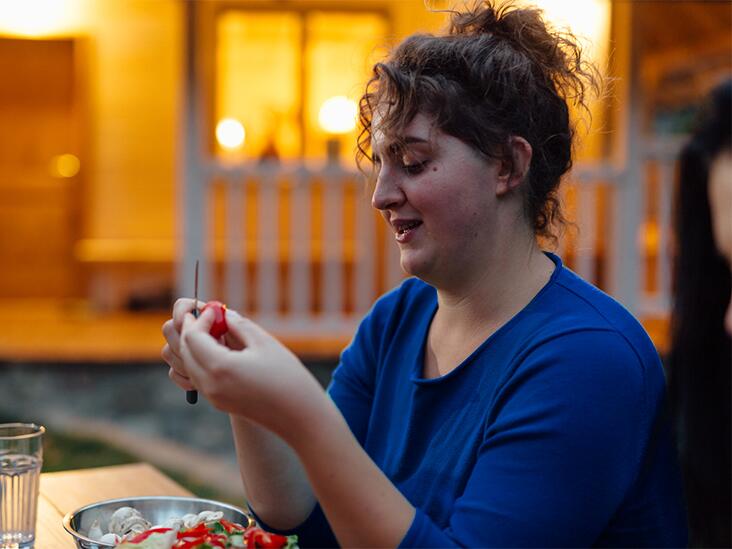 There are two main types of cholesterol: "bad" cholesterol, also known as low-density lipoprotein (LDL), and "good" cholesterol, known as high-density lipoprotein (HDL).
When too much LDL is present in your blood, it can build up in a substance called plaque on the walls of the arteries. This increases your risk of developing cardiovascular conditions, including:
coronary heart disease
heart attack
stroke
In contrast, higher levels of HDL can help prevent LDL from clogging your arteries and help reduce your risk of heart disease, heart attack, and stroke.
Triglycerides are the most common type of fat found in the body. They are different from cholesterol, as their main role is to store and provide energy.
However, if you have a high triglyceride level and either a high LDL level or low HDL level, this can increase your risk of fatty buildup in the artery walls. This, in turn, makes you more likely to have a heart condition, such as a heart attack or stroke.
You can work with your doctor to develop an effective treatment plan. This may include lifestyle changes, medication, or both.
Making lifestyle changes can help lower your cholesterol. This may include:
reducing your intake of saturated fats so that they account for less than 6% of your daily caloric intake
eating a heart-healthy diet with fruits, vegetables, and whole grains
increasing the amount of physical exercise you do
quitting smoking if you currently smoke
reducing your alcohol intake
losing 5–10% of your body weight if you are overweight or have obesity
Contact your doctor for advice before making any major changes to your routine.
In some cases, your doctor may prescribe medications to lower your cholesterol levels. These can include:
bile acid resins or sequestrants, such as cholestyramine (Questran) and colesevelam (Welchol), which help your body eliminate or remove cholesterol from the blood
ezetimibe, which prevents the absorption of cholesterol from the foods you eat
fibrates, such as fenofibrate (Tricor) and gemfibrozil (Lopid), which help reduce triglycerides and increase the amount of HDL in your blood
niacin or nicotinic acid, a type of vitamin B, which helps your body increase HDL levels while decreasing the amount of LDL levels and triglycerides in your blood
statins, such as simvastatin (Zocor) and atorvastatin (Lipitor), which reduce the amount of cholesterol the liver produces
Find out more about medications for high cholesterol.
Eating a heart-healthy diet can help lower your cholesterol and reduce your risk of heart-related conditions. This includes eating more of the foods that are good for your heart and reducing your intake of foods that are bad for your heart.
Eat more fiber and whole grains
Fiber helps reduce how much cholesterol your intestine absorbs into your bloodstream. Aim to eat 5 portions of fruits and vegetables per day, as they contain fiber and other nutrients that are good for you.
Adding more whole grains into your diet can also help boost your fiber intake. This can include:
whole grain bread
oatmeal
bran flakes
muesli with no added sugar
Replace saturated fats with unsaturated fats
Limit your intake of foods that are high in saturated fats. Saturated fats come from animal products such as cheese and fatty meats as well as tropical oils such as palm oil.
Instead, choose alternatives that are low in saturated fat, trans fat, added sugars, and salt. This can include:
lean meat
seafood
low fat or fat-free dairy products
whole grains
fruits
vegetables
Reduce your alcohol intake
Consuming alcohol can increase both your cholesterol and your triglycerides levels, which increases your risk of high cholesterol and heart conditions.
Avoid alcohol or limit your intake. The Dietary Guidelines for Americans 2020–2025 recommends either not drinking or drinking in moderation. They define this as two drinks or fewer per day for males and one drink or fewer per day for females.
Consume fewer foods containing cholesterol
Consuming foods that contain cholesterol will naturally raise your cholesterol levels. Avoiding these foods can help reduce this.
Foods that contain cholesterol include:
full fat dairy products, such as:
animal fats, such as:

butter
margarine
lard
ghee
suet
dripping

fatty and processed meat products, such as:

sausage
deli meat
canned meat
Most people do not experience any symptoms associated with high cholesterol. This means that you will need to have regular tests for high cholesterol.
Familial hypercholesterolemia
If you have inherited high cholesterol, or
familial hypercholesterolemia, you may notice symptoms of the condition.
Symptoms of inherited high cholesterol include:
LDL cholesterol levels over 190 milligrams per deciliter (mg/dl) in adults
painful or swollen Achilles tendons
lumps around your elbows, knees, and knuckles
a yellowish color around your eyes
a whitish-gray color in a half-moon shape on the outside of your cornea
If you experience these symptoms, it is also important to let your doctor know about any family history of heart conditions.
Learn more about familial hypercholesterolemia.
The Centers for Disease Control and Prevention (CDC) recommends that healthy adults get a routine cholesterol screening every 4–6 years.
A cholesterol screening typically involves a blood test to check your levels of:
LDL cholesterol
HDL cholesterol
triglycerides
total cholesterol
You may need to fast for around 8–12 hours before your cholesterol test. Your doctor will advise on if and for how long you need to avoid eating and drinking beforehand.
Cholesterol measurements are in mg/dl. Your doctor will look at your cholesterol levels and advise on whether or not you need to take steps to lower your cholesterol.
See the table below for target cholesterol levels.
| Test type | Target level |
| --- | --- |
| LDL | less than 100 mg/dl |
| HDL | 60 mg/dl or higher |
| triglycerides | less than 150 mg/dl |
| total cholesterol | less than 200 mg/dl |
Our high cholesterol appointment guide can help you prepare for your cholesterol screening test.
High cholesterol occurs as a result of:
there being too much cholesterol in your diet
your body making too much cholesterol
your body not being able to get rid of enough cholesterol
not getting regular exercise, which can lower good cholesterol
smoking, which increases bad cholesterol and lowers good cholesterol
In some cases, high cholesterol occurs as a result of a genetic condition passed down through families. This is familial hypercholesterolemia.
A number of factors can increase your chances of developing high cholesterol. Common risk factors include:
It is possible to minimize some of these risks, such as by stopping smoking or maintaining a moderate weight. However, it is not possible to avoid some of these risk factors, such as getting older or having a family history of inherited high cholesterol.
Talk with your doctor about your individual risk factors and steps you can take to manage the factors that are in your control.
If you do not lower high cholesterol, this can lead to potential health complications. These can include:
atherosclerosis
coronary heart disease
peripheral artery disease
stroke
heart attack
Having regular cholesterol screenings every 4–6 years can help you keep on top of your cholesterol and take steps to lower it when necessary.
Learn more about how high cholesterol affects your heart.
View our cholesterol hub for more articles and information about high cholesterol.
High cholesterol occurs when there is too much LDL, or "bad," cholesterol in your blood. This increases your risk of developing heart conditions such as heart attack or stroke.
The CDC recommends that you have regular cholesterol screening tests every 4–6 years. Your doctor will test your LDL, HDL, triglycerides, and total cholesterol levels. If your levels of LDL are too high, they will advise on dietary changes to help lower your cholesterol. In some cases, they may also prescribe medication.
Contact your doctor to schedule a cholesterol screening test if you are due one or if you have concerns about your cholesterol.
Was this helpful?