Black Americans: 6 Tips to Manage High Cholesterol
Black Americans can take control of their cholesterol levels by finding a culturally competent doctor, following recommendations for diet and exercise, and taking advantage of resources and support.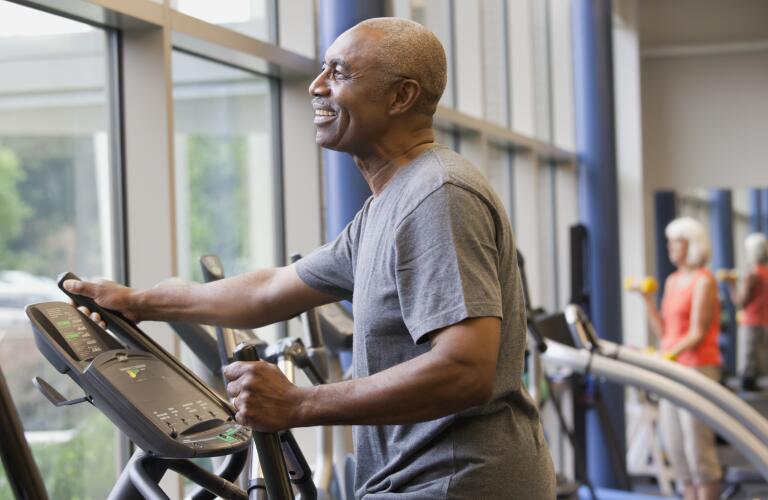 According to the Centers for Disease Control and Prevention (CDC) Trusted Source Centers for Disease Control and Prevention (CDC) Governmental authority Go to source , high cholesterol is one of the main risk factors for heart disease, a condition that affects about 10% of Black adults in the United States. Taking a proactive approach to your high cholesterol management may significantly help lower your risk for heart disease.
The term "high cholesterol" usually refers to high levels of low-density lipoprotein (LDL) cholesterol, also known as "bad" cholesterol because it can build up within your arteries, restricting blood flow and raising the risk of blood clot formation. Keep in mind that cholesterol levels are affected by many factors, such as genetics, age, diet, and lifestyle. While you can't necessarily do anything about your family history or age, you can follow these high cholesterol management tips to bring your levels into a healthy range. These include working with a doctor you trust and, when necessary, taking prescribed medications to lower your cholesterol. Certain dietary changes may also help lower blood pressure, taking care of two key risk factors for heart disease.
If you have high LDL cholesterol, defined as anything above 100 milligrams per deciliter (mg/dL), you may need to seek medical care to lower your LDL levels and manage potential heart disease risk. Bringing high cholesterol down to a healthy level often requires a combination of lifestyle changes and prescription medications. The most common prescription medications to lower cholesterol levels are called statins.
Although statins have proved to be effective and are well tolerated by most people, a 2018 study Trusted Source JAMA Peer reviewed journal Go to source suggests that African American individuals tend to be less likely than white adults to believe in the effectiveness of statins, and are less likely to trust their doctors when prescribing medications.
Lowering your high cholesterol levels is very important to reduce the risk of heart disease and to improve your overall well-being. Find a culturally competent doctor who understands your concerns and be proactive about asking as many questions as needed. A culturally competent doctor will have received training in the nuances of how one's racial and cultural background impact their health and their experience in the healthcare system. Ask your physician if they've been trained in cultural competence or if they have experience treating high cholesterol in People of Color. If you're uncomfortable with their mannerisms or recommendations, there's no need to settle. Partnering with your doctor is the best way to manage your cholesterol levels and overall health, so it's crucial to connect with a healthcare professional you trust. If you feel most comfortable with a Physician of Color, resources like BlackDoctor.org and Huedco.com can guide you in the right direction. Once you find the right doctor, always follow their recommendations about lifestyle changes and the correct way to take your prescription medication.
If you have been prescribed a statin, or other cholesterol-lowering drug, be sure to take the medication as recommended by your doctor. A 2020 review Trusted Source AHA/ASA Journals Peer reviewed journal Go to source of nearly two dozen studies that focused on race and ethnicity in the prevention and treatment of heart disease suggests that statins tend to have similar effectiveness among Black Americans and members of other races and ethnic groups.
If you start taking statins, don't stop taking them without first consulting your doctor. If your cholesterol numbers reach your target goals, you may still need to take your medications to keep your cholesterol under control. Statin side effects, when they do occur, often wear off after a few weeks. If you can't tolerate the side effects, though, reach out to your doctor. There may be alternatives to try that may affect you differently while still helping to keep your cholesterol levels healthy. If you have high cholesterol that doesn't respond to statins or lifestyle changes, your doctor may be able to recommend a different medication to add on to your treatment regimen.
Following a heart healthy diet to reduce cholesterol doesn't mean giving up all your favorite foods. It means you can learn to make them more nutritious. For example, fish or chicken can still be part of cholesterol-lowering diet, as long as they are baked, steamed, or grilled. High fiber foods, including vegetables, fruit, beans, and oatmeal, are also associated with lower cholesterol numbers. A 2017 study Trusted Source PubMed Central Highly respected database from the National Institutes of Health Go to source suggests high consumption of saturated fats is associated with increased LDL levels, so cooking with olive oil instead of butter, for example, can be a significant heart healthy dietary change.
The National Heart, Lung, and Blood Institute published a free online cookbook called Heart Healthy Home Cooking: African American Style that includes nutritional options to prepare cultural foods in ways that benefit your cholesterol, blood pressure, and blood glucose levels.
Knowing what you should eat and what you should avoid is the first step, but implementing dietary changes can be easier with the help of a registered dietitian.
They can create a personalized plan that fits your lifestyle and food preferences. You can ask your doctor for a referral to a registered dietitian who specializes in helping people lower their cholesterol levels.
The National Organization of Blacks in Dietetics and Nutrition (NOBIDAN) can also be a useful resource to find a Black registered dietitian in your area.
In addition to following a nutritional eating plan, getting more physical activity into your day is also recommended to help lower your cholesterol levels and enhance the effectiveness of any medications you may be taking.
A 2017 study Trusted Source PubMed Central Highly respected database from the National Institutes of Health Go to source on the effects of aerobic exercise and cholesterol suggests that more physical activity to help control weight, blood pressure, and cholesterol should be recommended — rather than expanding the reliance on cholesterol-lowering drugs.
Because a person's likelihood of having high cholesterol is largely determined by their parents' cholesterol profiles, it's helpful for an individual to know if one or both parents had high cholesterol or other heart disease risk factors.
In a 2018 survey Trusted Source PubMed Central Highly respected database from the National Institutes of Health Go to source , African American participants had more gaps than other groups in their knowledge of family medical history. The researchers advised that individuals can turn to a wider range of relatives, if necessary, to piece together family history of serious health and medical concerns.
Managing high cholesterol can involve some big life changes, but you're not on this path alone. By partnering with a doctor you trust, committing to medication, prioritizing healthy meals and exercise, and understanding your family history, you can stay in control of your cholesterol and your overall health.
Was this helpful?