4 Benefits of a Virtual Doctor Visit for High Cholesterol
Was this helpful?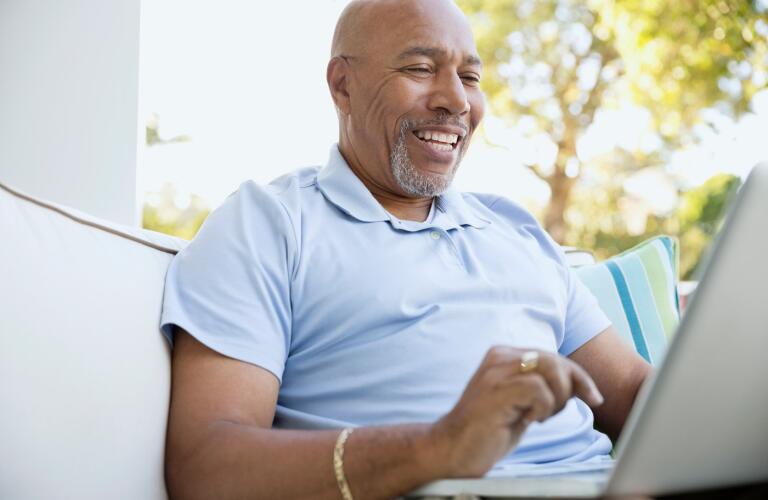 Your doctor has suggested you schedule a virtual appointment for your next visit to monitor the ongoing management of your high cholesterol levels. At first, you might be unsure about this new way to communicate. But as you learn more about the benefits of a telehealth visit for your high cholesterol, you'll find it can empower you to better manage your health and offer several significant perks.
High cholesterol is a condition that often doesn't manifest itself with any obvious symptoms. You might be walking around with high levels of low-density lipoprotein, or LDL, for months or even years without realizing it–and without realizing the corresponding increase in your risk for developing cardiovascular disease. High cholesterol is also linked to a higher incidence of type 2 diabetes.
But it's important to know what your cholesterol levels are–and to understand that lowering your high cholesterol levels will improve your health. If you can bring your high cholesterol levels down, you can lower your chance of having a heart attack or a stroke or developing peripheral arterial disease. And telehealth can be a convenient way to stay on top of your numbers, offering an opportunity to discuss your health with your doctor and chart the best path forward.
If you love working from home, you're going to love seeing your doctor from home, too. The opportunity to consult with your doctor in real time from the comfort of your own home is an oft-cited benefit of telehealth.
When you connect with your doctor via a telecommunications platform, you can physically be anywhere with a high-speed Internet connection. And you can save on many things, including:
Time:You save a great deal of time by eliminating the travel factor. You don't have to drive, ride, or take public transit to your doctor's office. Plus, you don't have to sit in a lobby or exam room, waiting on the doctor to arrive.
Money: If you have to travel a long way to see your doctor in person, telehealth will eliminate any travel expenses associated with receiving care. There's no gas bill, no parking fee, no bus ticket, etc. You might also save money on arranging for childcare, if you have children who need supervision while you're at the doctor's office.
Exposure: When you chat with your physician over video or phone, you can do so from your kitchen table, your living room, your office, or even your car. You don't have to sit in a waiting room and potentially risk exposure to infectious disease like COVID-19 or influenza. That's especially important if you're already at elevated risk for complications from those illnesses.
Another advantage of a telehealth visit: the chance to discuss your current cholesterol-lowering medication. You might ask if your doctor thinks it's the best treatment for you, or if there's another medicine that might be more effective. Since telehealth is often more convenient, it's easier to schedule more frequent appointments to discuss how your treatment is affecting you, rather than waiting until your regular follow-up visit. Your doctor can prescribe new medications or change dosages of existing drugs without seeing you in the office, so there's no need to wait for a physical appointment to get the best treatment plan.
Like many people with high cholesterol, you may be taking a statin. Statins help the liver produce less cholesterol, as well as aid your liver in removing some of the cholesterol already in your blood. But you may experience side effects from the medication. Muscle pain is a common side effect of statin usage. It may not bother you, but it might be significant enough to hamper the way you live your life. That's exactly the sort of concern that you should bring up with your doctor during a telehealth visit.
Most cardiologists will recommend you make some lifestyle choices to help you lower your cholesterol, and along with that, lower your corresponding risk of heart disease and other conditions. You may have heard some of this advice before–in fact, you probably have–but you may have questions about putting these goals into action in your daily life. Take advantage of the convenience of telehealth and schedule an appointment to talk to your doctor and ask for guidance about:
Eating a healthier diet. A heart-healthy diet for someone working on lowering their cholesterol includes reducing saturated fats and ditching the foods with trans fats, as well as boosting the amount of soluble fiber they're consuming. Adding in some whey protein and some omega-3 fatty acids can help, too. Your doctor can weigh in with some suggestions or even refer you to a registered dietitian for some more targeted guidance. You can schedule a telehealth appointment with that dietitian and even show them your pantry or fridge as you learn more about what it will take to eat more healthfully.
How to exercise regularly. Your doctor has likely encouraged you to make time in your schedule to get some physical activity. You may find that you enjoy a brisk walk each morning, or perhaps riding a bike, swimming laps, or dancing are more your style. Your doctor may also counsel you on easy ways to incorporate more activity in your daily life, like always taking the stairs instead of an elevator.
How to quit smoking. If you're a smoker, your doctor can steer you toward resources that can help you quit.
Telehealth has many advantages, but there are also some limits. Obviously, you can't get any bloodwork done when you see your doctor via telehealth, so it's critical you don't skip out on getting your cholesterol tested by going into the doctor's office when needed. Your physician will specify when a physical visit is needed, but it's helpful to know they're available over telehealth to help you get the best care in a convenient way.
Was this helpful?