Black Women with Ovarian Cancer: How to Advocate for Your Health
Was this helpful?
Receiving a diagnosis of ovarian cancer can turn your world upside down, but you're not alone. Although racial disparities put Black women at disproportionate risk of poor outcomes, by partnering with the right oncologist and finding support, you can get the care you need.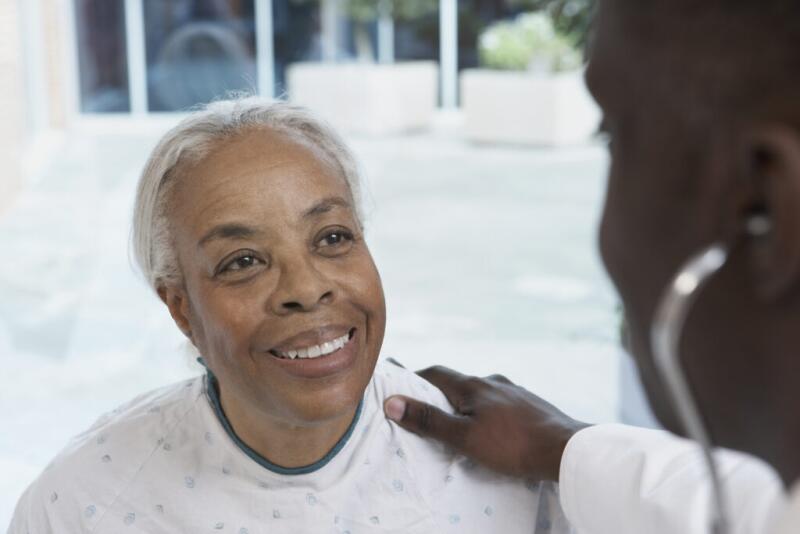 Recent advances in treatment have improved ovarian cancer outcomes, although research indicates white women are more likely to live longer and receive optimal treatment than Black women. In fact, ovarian cancer survival rates increased from 33% to 48% among white women between 1975 and 2016, while survival rates decreased from 44% to 41% for Black women over that same period of time. Despite these disparities, with the right tools, you can advocate for your health and find high quality care.
After you receive a diagnosis of ovarian cancer, it can be beneficial to get a second opinion for a few reasons. It's helpful to see another doctor who can examine your test results and share their perspective on your diagnosis. You may also be able to find an ovarian cancer specialist – an oncologist who sees many ovarian cancer patients and who has received extensive training in treating the condition.
The treatment landscape for ovarian cancer is changing rapidly, with new therapies available that are significantly improving survival rates and quality of life for patients. You can benefit from seeing a doctor who stays up to date on advances in ovarian cancer research so they know which treatment plan is best for you. Consulting with a new doctor is an opportunity to compare treatment recommendations, which have proven to be a significant issue for disparities among people with ovarian cancer. Research suggests Black women in the United States may not receive the same quality of care and timely treatment as white women with ovarian cancer.
For example, in a 2015 study of people with ovarian cancer, African American women were more likely to undergo chemotherapy without surgical intervention than white women, despite the fact that the combination of both therapies can improve outcomes. African Americans were also less likely to receive chemotherapy at all, and were less likely to undergo surgery of any kind. Additionally, they were more likely to have inappropriate surgery, like the removal of an ovarian mass without proper assessment or preparation first.
In a 2017 study of people who received chemotherapy to treat ovarian cancer, African American women were more likely to have their doses reduced and their treatment delayed or discontinued compared to white women.
Many factors contribute to these disparities, including those rooted in systemic racism. Physician bias and poor previous experiences may prevent Black women from recognizing cancer early or seeking treatment quickly. For these reasons and more, Black women are more likely to receive a diagnosis when their ovarian cancer is advanced and fewer treatment options are available to them. Additionally, Black people have higher rates of comorbidities like obesity, which may make surgery riskier and necessitate lower doses of chemotherapy. And lack of access to insurance can also influence treatment. The challenges facing Black women with ovarian cancer are complicated, which is why connecting with the right doctor is so important.
In addition to finding a doctor who specializes in treating ovarian cancer, it's crucial to see someone who makes you feel heard and understood. Physicians trained in cultural competence will actively question their own potential biases and understand the nuances of how race may influence a patient's experience navigating ovarian cancer care. Ask your doctor if they have received training in cultural competence, or try to find a Black doctor who may be more sensitive to your needs. Resources like Hued.co, BlackDoctor.org, and the National Association of Black Oncologists can guide you towards connecting with a physician you feel comfortable with.
The more you know about your diagnosis, the better equipped you will be to make decisions about your care. This can give you an advantage so you can improve the quality and longevity of your life. Don't hesitate to ask your doctor if you have questions about any aspect of your care. An oncology nurse navigator can also be a helpful resource for you; nurse navigators, also called patient navigators, are members of your healthcare team who are there to help guide you and advocate for you during the treatment process. They can provide education, assist with logistical concerns like financial and insurance hurdles, and follow up with your doctor to keep your treatment schedule moving forward.
Support groups for people with ovarian cancer can also be a valuable tool. Your doctor can refer you to local support groups. Additionally, you can look online for virtual communities like Cancer Care's "Women of Color With Cancer Support Group" or SHARE's "Breast and Ovarian Cancer Support for Women of African Descent" group. Connecting with Women of Color who share your diagnosis can provide you with comfort, validation, and advice about how to navigate your treatment and process your experience.
Healthcare disparities affect Black women and other People of Color across many different conditions. Arming yourself with the right healthcare team, up-to-date information, and lots of support can help you make decisions to improve your health and get the care you need.
Was this helpful?