Advances in Treating Biliary Tract Cancer
Was this helpful?
Biliary tract cancers are a group of aggressive cancers including bile duct cancer, gallbladder cancer, and ampullary cancer. These are rare forms of cancer affecting an important part of the gastrointestinal (GI) system. Recent biliary tract cancer treatment advances are helping people live longer. Along with standard treatments, such as chemotherapy and surgery, newer treatments like immunotherapy and targeted therapy help improve symptoms while destroying cancer cells. These new treatments offer many the hope for a longer life after diagnosis.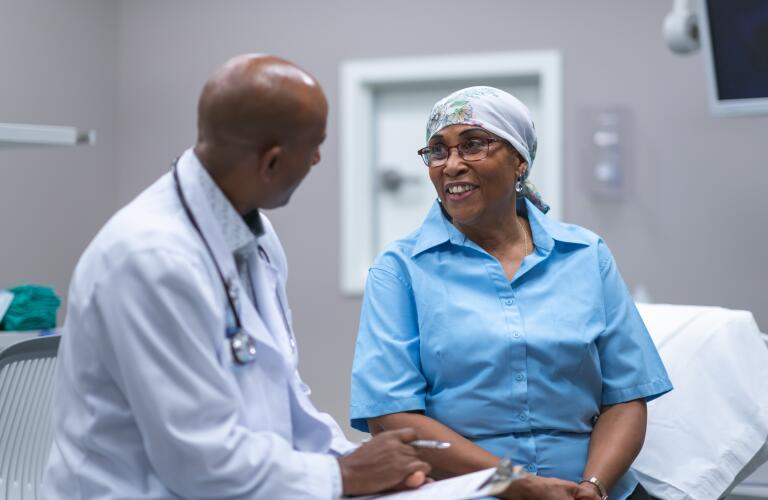 About 23,000 people in the United States receive a diagnosis of biliary tract cancer each year. In some cases, surgery can successfully remove all or most of the cancer, and it's often followed by chemotherapy or radiation therapy, although new treatments are coming down the pipeline as well. Biliary tract cancer treatment advances are helping to improve survival rates and extend the life of many people diagnosed with the disease.
Traditionally, doctors treat biliary tract cancers using a combination of surgery, chemotherapy, and radiation therapy. Many types of bile duct cancer are resectable — in other words, having surgery can effectively remove all the cancer from your body. However, some forms of biliary tract cancer are unresectable, meaning that surgery won't work.
In these cases, chemotherapy or radiation therapy may help shrink or slow the growth of tumors. And newer treatments may also benefit those who cannot have surgery to remove the cancer, or who require additional treatments after surgery.
Immunotherapy is a newer treatment method that stimulates the body's own immune system to fight and destroy cancer cells. Your immune system normally targets abnormal cells within your body and destroys them before they become cancerous. However, cancer cells can sometimes prevent the immune system from targeting them. With immunotherapy, doctors give patients substances that are made in laboratories; these substances help boost the body's immune response against cancer.
Many immunotherapy drugs for biliary tract cancers are immune checkpoint inhibitors, laboratory-created monoclonal antibodies. These drugs work by blocking immune checkpoints. Checkpoints are a normal part of the immune system which prevent the body from reacting to abnormal cells or other substances too strongly. By blocking these checkpoints, the body's immune system is free to launch a full-scale attack against cancerous cells. These drugs may be given in conjunction with another therapy, like chemotherapy.
Targeted therapies are another newer treatment option helping more people with biliary tract cancers live longer. This form of treatment uses drugs that act on certain genes or proteins that may help cancer cells mature, grow, or spread. There are two main types of targeted therapies for biliary tract cancer: FGFR2 inhibitors and IDH1 inhibitors.
FGFR2 inhibitors work on a specific protein that's located in biliary tract cancer cells. By blocking the action of this protein, FGFR2 inhibitor drugs prevent cancerous cells from growing and spreading. In many cases, these drugs are used when other therapies, such as surgery, aren't an option.
IDH1 inhibitors also work on a specific protein found in biliary tract cancer cells. These drugs block the action of another protein that helps cancerous cells mature. Blocking this protein may help people with more advanced cancers or those who've already been treated for the disease.
Clinical trials are a great opportunity to advance our understanding of various forms of cancers and the treatments that work against them. In general, the treatments used in clinical trials aren't widely available as standard treatments. Instead, the clinical trial is a kind of test to help determine how well a potential new treatment works.
You may decide to participate in a clinical trial if there are no other good treatment options. Or, you may be interested if other, more standard treatments haven't been successful. There are many clinical trials underway at the same time. If you're interested in joining a trial, your doctor can help you find one that's a good fit.
Biliary tract cancer treatment advances have already helped many people live longer after receiving a diagnosis. Clinical trials may reveal even newer forms of treatment that boost survival rates. Your doctor can partner with you to determine which new treatments may work best for you, and they can pair you with a clinical trial if you're interested.
Was this helpful?