7 Mental Health Tips for Black Women with Ovarian Cancer
Was this helpful?
A cancer diagnosis can be overwhelming and difficult to process, but support is available right now. Black women may benefit from resources tailored to their unique needs to nurture their mental health while they receive treatment for ovarian cancer.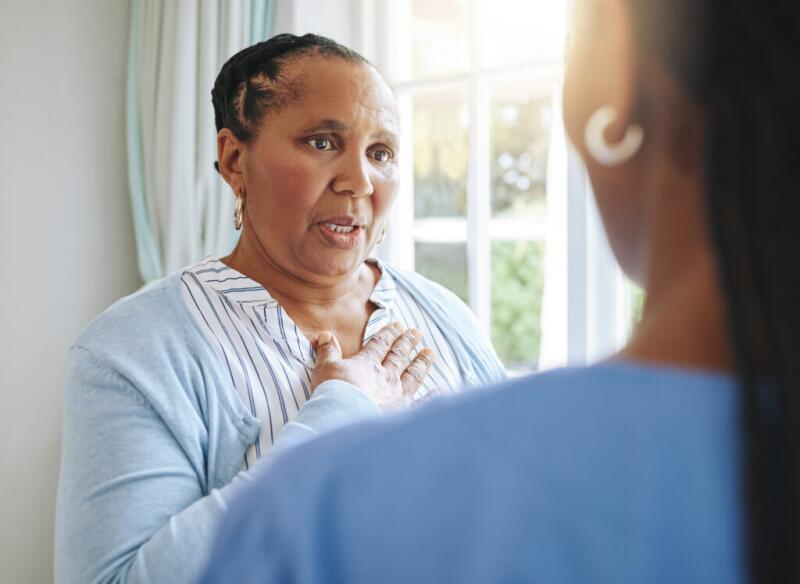 Receiving an ovarian cancer diagnosis can be overwhelming due to all the information you're getting at once. If you're a Black woman, learning how ovarian cancer affects this group specifically can raise additional questions.
Some research suggests ovarian cancer survival rates have increased for non-Hispanic white women but not for Black women. However, it's important to remember every case is unique, and there are steps you can take to help improve your outlook while you manage your mental health.
Physical treatment is just one part of the process.Your mental health is also a priority. Keep reading to learn seven tips for Black women with ovarian cancer to support their mental health.
You may derive great inspiration from slogans that encourage you to "stay strong" and "beat cancer." Or you may feel scared, sad, and anxious. All feelings are valid, and you're not alone: Feelings of depression are a very common side effect during cancer treatment.
Depression and anxiety can be effectively managed alongside your cancer treatment. Getting mental health care can make a positive difference in your cancer experience.
Reach out to your cancer care team for mental health care if you notice the following symptoms:
a deep sense of despair
extreme mood changes
a sense that nothing is quite right
They can point you in the right direction and get you the support you need.
Knowledge is power. Learning more about how racial disparities in healthcare affect Black women can help you get the best care for your health and well-being.
A 2019 research found treatment disparities and higher rates of death among Black women with ovarian cancer than white women with ovarian cancer. Factors that may contribute to these differences include:
health insurance access
socioeconomic status
quality of treatment
awareness of ovarian cancer symptoms
Some research also suggests that other health conditions may reduce survival rates of Black women with ovarian cancer. These conditions include cardiovascular disease and high blood pressure.
This kind of knowledge can help you ask specific questions about treatments and outcomes to receive the quality care you deserve.
You may benefit from working with a doctor who can provide culturally competent care. This can mean a doctor who has a similar racial background or who has invested the time into learning about the cultural and racial elements that affect People of Color seeking care.
A doctor who's familiar with your cultural beliefs, values, and practices can take all those factors into account when caring for you and developing a treatment plan.
Similarly, you may also benefit from working with a culturally competent mental health counselor or therapist. A few tips for finding a mental health professional to meet your unique needs can include:
asking trusted friends and family for recommendations
checking with your health insurance company for a list of mental health professionals with a similar cultural background to yours
asking your medical team for recommendations
A nurse navigator can be a very helpful ally during your ovarian cancer treatment.
A nurse navigator is a trained clinician who educates and guides you from diagnosis through treatment to remission. Having this kind of support can really bolster your mental health. You may feel relieved to not have to figure it all out by yourself.
You may not even have to ask your doctor for a nurse navigator. Nurse navigators are already a part of cancer care teams at many healthcare facilities.
Once you meet your nurse navigator for ovarian cancer, you can begin discussing your treatment goals and any other questions you may have. They can listen to concerns and help you find resources and support throughout your cancer journey.
A support group can provide a community you can rely on — people who know what you're really going through. You may feel less isolated and more empowered when surrounded by others who are also living with ovarian cancer.
Talking about your feelings may reduce stress and anxiety. You might even pick up a few tips for managing symptoms or navigating treatment.
Your medical team may be able to recommend an in-person support group. Online support groups are also readily available if that's a better fit for you.
You may feel more comfortable with a nonprofit organization or group with programming or resources that are specifically designed to meet the needs of Black women with cancer. Consider these organizations:
The Resilient Sisterhood Project provides resources and information about reproductive health issues and cancers, including ovarian cancer, for women of African descent.
SHARE provides education and other types of support to women of all races with ovarian cancer and other reproductive cancers, but they also offer some specific resources for Black women.
Additionally, there are many organizations for Black women with breast cancer that may help point you toward more general resources for Black women undergoing cancer treatment.
Everyone reacts to cancer differently. Your family and friends may rally behind you, or they may withdraw out of fear. Don't be afraid to ask for what you need. Consider talking about this with your mental health professional to create a plan that fits your needs.
As a Black woman managing ovarian cancer treatment, you deserve all the resources available to empower your health journey.
Make sure to voice your concerns, ask for culturally competent care, and find the space you need to ensure your physical and mental well-being.
Was this helpful?