Types of Breast Implants
Medically Reviewed By William C. Lloyd III, MD, FACS
Was this helpful?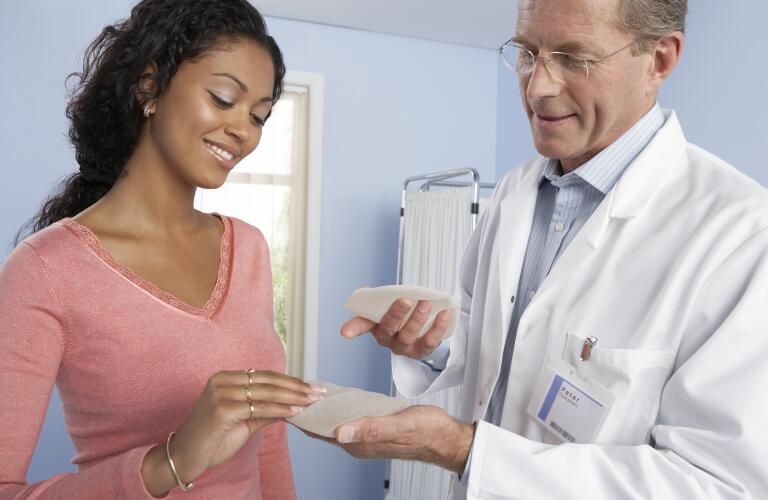 People might choose to get breast implants for cosmetic reasons, or they may opt for implants to restore the appearance of their breasts after a mastectomy. If you are considering breast implants, you will have another decision to make as well—the type of implant.
What types of breast implants are safe to choose from? Your choices may vary, depending on whether you are seeking cosmetic enhancements or breast reconstruction. However, in general, most people can choose between saline or silicone breast implants.
Continue reading about the different types of breast implants and how receiving them might affect your breast health.
Both saline and silicone breast implants consist of a silicone shell or pouch.
Saline implants
Saline breast implants are empty when placed into the surgical cavity. After insertion, the surgeon fills them with a sterile solution. This allows the surgeon to make small adjustments to the implant size during the procedure to achieve the precise look you are seeking.
If a saline breast implant ruptures, you will notice it immediately because the affected breast will "deflate." Ruptures of silicone breast implants do not produce this effect and often can only be detected through magnetic resonance imaging (MRI).
Silicone implants
Compared with saline implants, silicone implants are thought to better mimic the look and movement of real breast tissue. However, capsular contracture (tightening of scar tissue around the implant) can occur with either type of implant, causing the implant to become hard, misshapen, or even painful.
Silicone breast implants, unlike saline implants, are prefilled with a gelatin-like substance and cannot be adjusted for size during surgery. In addition, silicone implants are available in anatomical shapes— sometimes referred to as "teardrop" shaped— while saline implants only come in a standard round shape. Some people and surgeons feel the anatomically shaped implant offers a more natural appearance.
Both saline and silicone implants are available with a smooth or textured shell, and your surgeon can recommend the most appropriate type for you. Textured breast implants may reduce the risk of capsular contracture, but they have also been linked to a very rare cancer, anaplastic large-cell lymphoma (BIA-ALCL).
One of the top questions people ask about breast implants is "Are they safe?" All breast implants must be approved for safety by the U.S. Food and Drug Administration (FDA), which means these prosthetics must go through clinical trials to prove their safety before they are ever offered to the public.
Breast implants themselves—whether saline or silicone—are considered safe, but they are not considered "lifetime devices." They can cause health issues the longer they are implanted. A few of the complications people experience due to breast implants are:
Asymmetry: One breast may be larger, smaller, or positioned differently than the other.
Breast implant associated BIA-ALCL: This is a very rare type of cancer.
Capsular contracture: In capsular contracture, the scar tissue surrounding the implant tightens.
Deflation: Deflation results in leakage of the saline solution out of the implant.
Reduced sensation: Reduced sensation may occur in the breast or nipple following surgery.
Rupture: An implant may rupture.
In addition to these potential complications, people who receive breast implants either for cosmetic purposes or for breast reconstruction should be aware that both saline and silicone implants can obscure actual breast tissue on mammograms, which can make it harder for a doctor to detect early breast cancer lesions.
If you have breast implants, you should notify your mammography clinic about the implants. The sonographer usually takes four additional mammography views of breasts with implants to help the radiologist see all of the breast tissue clearly.
After talking with your doctor about the safety of breast implants, you should also consider the following:
Cost: Cosmetic breast enhancement is not generally covered by insurance, whereas breast reconstruction from cancer or another illness usually is. The cost of treating complications that occur with cosmetic breast implants usually must be paid out of pocket, including the costs of additional surgeries that may be required.
Potential complications: Ask your doctor about infection rates and your personal risk of other possible complications.
Surgical process: Some people require additional surgeries to achieve their desired appearance. In addition, some people need breast tissue expanders to be placed prior to placing the breast implant.
Types of breast implants: Beyond the different types of breast implants available, implants are also available in a variety of sizes, shapes and textures. Ask your surgeon which style and type might help you best achieve your desired look.
Both saline and silicone breast implants can be used safely by adults to enhance the appearance of their breasts for cosmetic reasons or for reconstruction after mastectomy. To increase the likelihood of achieving the best outcome, look beyond the type of implant involved and carefully choose a board-certified plastic surgeon who has substantial experience implanting both saline and silicone breast implants.
Ask the surgeon whether they have surgical outcome data to share with you. This would include the number of surgeries they have performed and the complication rates. Your doctor might also have deidentified patient photos to share, which will allow you to get an idea of what your experience might be like.

Was this helpful?