Healthcare Providers Who Treat Back Pain
Medically Reviewed By William C. Lloyd III, MD, FACS
Was this helpful?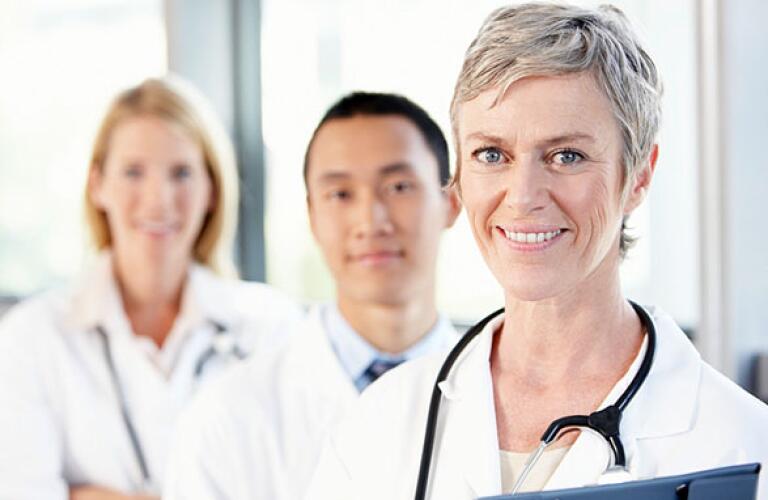 Often, back pain goes away with time. But if yours lingers—or comes along with symptoms like numbness or tingling—it's time to seek medical help.
When you need a dedicated back pain doctor or other provider, to whom can you turn when your aching back interferes with your daily life? Here, meet the potential members of your back care team.
Usually, your family doctor or internist is the first person you'll turn to with any medical problem. He or she can often treat your pain directly by recommending hot and cold therapies, advising you on exercise or other lifestyle changes, or prescribing medications. In other cases, he or she will refer you to a specialist who treats back pain on a regular basis.
These professionals can help you manage your back pain without medication or surgery. During a session, you might receive:
Guidance on a proper workout routine
Hands-on manipulation of your spine or muscles
Heat or ice treatments
Strengthening and flexibility exercises
Training and education about back care in your daily life
Ultrasound, electrical stimulation, and other therapies applied directly to your back muscles
All physical therapists undergo training to help people with back pain. Consider finding one with additional training or expertise in orthopedic physical therapy.
Also called physical medicine and rehabilitation physicians, these doctors specialize in treating illnesses or injuries that interfere with normal movement. They coordinate treatment plans that focus on your whole body and the way your nerves, muscles and bones work together. Often, they involve neurologists, orthopedic surgeons, and physical therapists in a joint effort to ease your pain and restore function.
Some people find back pain relief through surgery when other treatments fail to relieve pain. It's usually best to try other treatments—including medication and physical therapy—for at least six months before considering surgery.
But surgery isn't a last-resort option for everyone. An orthopedic surgeon can help pinpoint the source of your pain and advise you on whether surgery is likely to help. Procedures for people with back pain include:
Laser surgeries that vaporize damaged tissue
Removal of herniated or ruptured discs
Surgery to repair fractures in the spine using a cement-like material
No matter the cause of your back pain, these pain medicine specialists can help treat it. Sometimes they consult your primary care, orthopedic, or other physician. In some cases, they'll serve as the main doctor developing and coordinating your pain treatment.
Pain specialists can prescribe medication, perform procedures that relieve pain, and recommend physical therapy or other rehabilitative services. They also counsel you and your family on ways of coping with pain and minimizing its effect on your life.
There are 10 pairs of nerves that run from your lower back along your spine, potentially sending signals of pain to your brain. If your pain comes along with other neurologic symptoms—such as weakness, numbness or dysfunction in your bladder or bowels—the problem may stem from a compressed or irritated nerve.
Neurologists and neurosurgeons can determine which nerves and nerve roots are involved and recommend treatment. Conservative therapies include medication to relieve nerve swelling, pain and irritation. If these treatments don't work, these doctors can discuss the benefits and risks of surgery.
Chiropractic care focuses on the link between the body's structure and function. Practitioners earn a doctor of chiropractic (D.C.) degree and receive a state license to practice. They primarily use chiropractic adjustments, using their hands or a device to apply force to your spine or other joints, to increase your range of motion and relieve pain.
Other back pain treatments chiropractors employ include:
Advice about lifestyle changes
Electrical stimulation of muscles and nerves
Exercises
Hot and cold therapy
Relaxation techniques
Supplements
Chiropractic care is considered a complementary therapy, outside the mainstream of medicine. While some studies support its effectiveness for back pain, it has risks, including headaches and discomfort. In rare cases, strokes and other severe side effects have been reported, although it's not clear that spinal manipulations were the primary cause. Talk with your doctor about all the treatments you use to manage your back pain.

Used in Asia for thousands of years, acupuncture involves inserting small, thin needles into your skin. Research on the effectiveness of acupuncture for back pain is ongoing, but many studies suggest it can help either by itself or in combination with more conventional treatments.
Acupuncturists aren't qualified to diagnose back pain if they don't have additional medical training. But if a physician has evaluated your back pain, you may want to ask if acupuncture is an option for you. Some physicians, chiropractors, or other healthcare professionals practice acupuncture or can refer you to qualified acupuncturists.
Was this helpful?