Why Asthma Is Worse in Winter
Was this helpful?
It's true: Asthma symptoms are often worse in winter weather. From cold, dry air to the common cold, there's a lot in the environment that can irritate your lungs. The effects can get more severe if you work outdoors in the winter or exercise outside in cold weather.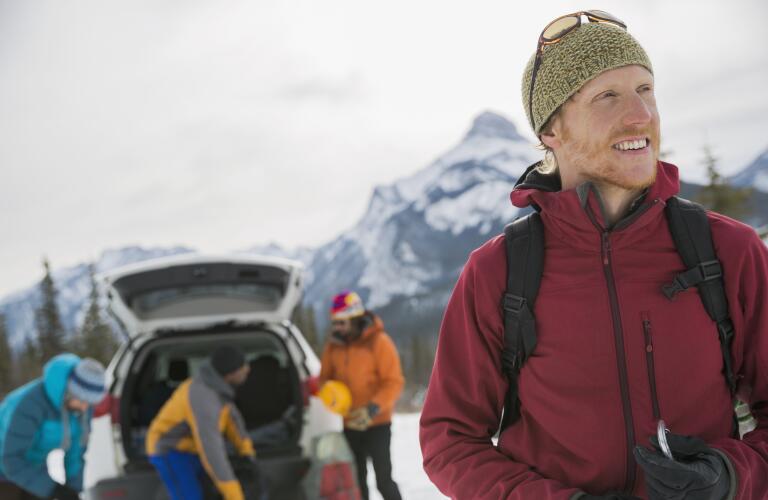 Exercise-induced asthma, also called exercise-induced bronchoconstriction, or EIB, makes the season challenging for outdoor runners and hikers or anyone who plays winter sports outside. EIB occurs when you breathe in air that's drier than the air already in your lungs. This happens more frequently in the winter and can cause shortness of breath, wheezing, coughing, and tightness in your chest.
Symptoms like these makes wintertime no fun for asthmatics. Fortunately, there are several measures you can take to reduce cold weather-induced asthma and keep your lungs working well until it warms up.
There are a lot of seasonal factors that can cause asthma flare-ups and make exercising outdoors in cold weather more difficult. From air quality to pesky germs, your respiratory system gets a workout during the winter.
Winter asthma triggers include:
Cold, dry air: Usually, your nose does a good job of warming up the air before it reaches your lungs, but in the winter the cold air can cause immediate asthma symptoms.

Mold spores: When wet, wintry weather shows up, so does mold. Rain and snow cause damp conditions and encourage mold growth, which can irritate your airway if you breathe it in. Windy, winter storms also blow mold through the air.

Indoor pollutants: Staying indoors in the winter may not be the answer, because a new batch of indoor irritants show up with the winter season. Think wood smoke, cooking fumes, and even dust from holiday decorations.

Cold and flu season: Infections that affect your sinuses and respiratory system happen more frequently in the winter months and can easily trigger asthma symptoms.

Medication usage: People with good control over their asthma may become more relaxed about taking their medicine and not be prepared for an unexpected flare-up during the winter weather. It's important to have an action plan if your symptoms change quickly.

There are a lot of winter asthma triggers to watch out for, but you don't have to avoid winter fun altogether. There are several simple ways to protect your respiratory system from irritants, so you can enjoy cold weather activities outdoors and indoors. Try adding a few or all of these tips to your winter asthma care routine:
Breathe through your nose, so it can warm cold air and filter irritants

Wear a scarf or face mask over your nose and mouth when you're outdoors

Exercise indoors when you can

If you like to exercise outside, do a 10- to 20-minute warm-up indoors first

Avoid fireplaces and wood stoves

Change your home's air filters more often

Wash your hands to prevent spreading cold and flu germs

Get a flu shot to play it safe

Take a preventive dose of asthma medicine before going outside

Have an asthma action plan for symptoms that could sneak up on you

If managing your asthma symptoms in the winter is difficult, talk with your doctor about what medications you should be taking and when you should use them in the wintertime. A few changes to your asthma care plan can help you weather the season symptom-free.
Was this helpful?