Natural Remedies for Asthma Relief
Was this helpful?
There are many "natural remedies" on the market that claim to treat asthma and promote healthier breathing. However, few studies have looked at the safety and effectiveness of these asthma remedies. Before trying natural asthma remedies, talk to your doctor to make sure they are safe for you.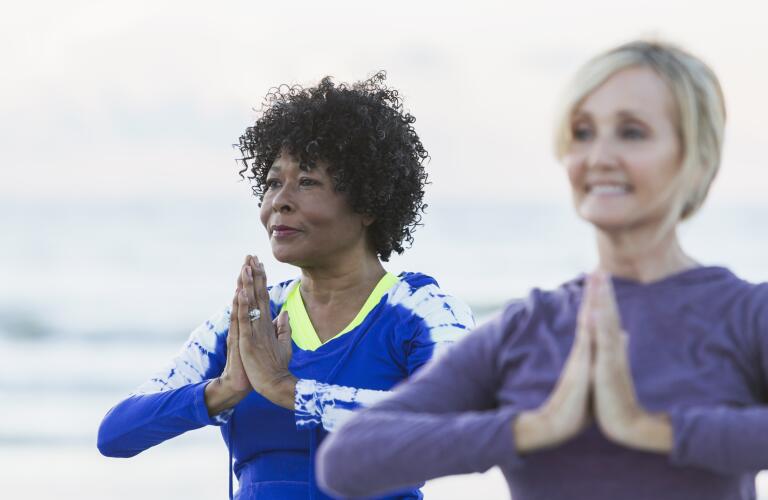 There are a variety of natural therapies for asthma that doctors generally consider safe. These therapies may help you control your asthma as a part of your complete management plan. Your doctor may call these therapies complementary therapies or complementary and alternative medicine (CAM).
Your doctor will recommend you use these therapies to complement your prescription medicines, not to replace them. Researchers are still studying these therapies, so visit with your doctor before trying them.
Yoga is a mind-body practice that uses breathing, stretching and balance exercises to reduce stress, a common asthma trigger. Yoga can also help you to improve your overall fitness and well-being.
Breathing exercises, such as the Buteyko breathing technique, may help you improve your asthma symptoms so that you don't have to rely on your rescue medicine as much. Buteyko breathing can teach you how to normalize your breathing patterns when under stress.
Biofeedback is a relaxation technique that uses a machine to measure stress-related body responses. Biofeedback can teach you to control your breath during an asthma attack. Biofeedback may lessen your overall asthma symptoms too.
Natural remedies that claim to treat asthma and help you breathe easier are available without a prescription in countless forms, such as herbal pills, teas, and supplements. Just because something is deemed "natural" doesn't mean it is safe. Before trying natural asthma remedies, consider these points:
Talk to your doctor: Tell your doctor about all your asthma remedies including nutritional supplements. Some herbs and natural remedies are unsafe. For example: Gingko biloba can interact dangerously with certain medications and licorice root can increase your blood pressure. Ephedra, also called Ma Huang, is banned in the U.S. because it can cause deadly side effects.

Scant research: Researchers are studying some potentially promising herbs, supplements and complementary treatments for asthma. These include traditional Chinese herbal remedies, such as ding-chan tang (DCT), acupuncture, vitamin E, C, and D, magnesium, and omega-3 supplements. However, more research is needed to prove that these therapies are safe and effective asthma remedies.

Not regulated: Herbal and vitamin supplements are not regulated by the U.S. Food and Drug Administration (FDA). This means that they do not have the same testing, manufacturing, and labeling standards as medications that are regulated by the FDA. The FDA has issued guidelines for labeling what's in herbal or vitamin supplements. However, this does not guarantee that these products are safe, effective, or natural. And there is no peer-reviewed evidence that they actually work.
To learn more, check the National Center for Complementary and Alternative Medicine (NCCAM) for guidelines concerning the safe practice of using herbs and supplements.
Was this helpful?