SOCIAL VOICES

My Personal Experience with Pregnancy and Asthma

Was this helpful?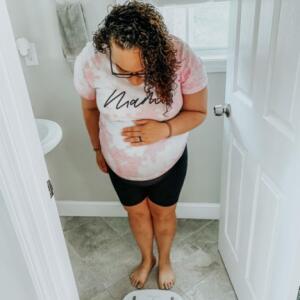 Being pregnant and having asthma can be such a tricky combination to manage. I'm not your average asthmatic. I was diagnosed with asthma at the age of 17. Normally, when you think of asthma, you think of someone wheezing and having a hard time breathing. That may be a lot of individuals' experiences but that sure isn't mine. My asthma is more of a lingering cough that can last months.
When I'm having an asthma attack, my cough gets so bad that my stomach hurts, and I sometimes even feel like throwing up. Anything can trigger it. The problem is, when I get checked by any doctor, even my asthma specialist, nothing shows up on their tests. It looks like my lungs and breathing levels are normal, but the cough is brutal.
When you're pregnant, you already have so much going on in your body. Adding the internal pressure of pregnancy can wreak havoc on your body when you have asthma. For me, this was especially the case during the third trimester.
Asthma can affect your pregnancy in a variety of ways, and, like they say, every pregnancy is different. During my first pregnancy, I had no issues with my asthma. However, my second pregnancy was a different story. Being pregnant during the summer made my asthma worse. Thanks to the humidity and hot weather, my asthma symptoms would start up at any given moment. My cough got so bad that I experienced Braxton-Hicks – premature contractions – and it almost felt like I was having a panic attack. What's worse, while I was pregnant, I couldn't take my usual medication to help stop the lingering cough. Some over-the-counter medications aren't that safe when you're pregnant, so my doctors advised me not to take them. Being left without treatment was tough. I felt like I was in this bubble I couldn't escape from.
I ended up being put on bed rest during that time. The hot summer can already feel horrendous, so adding pregnancy and asthma into the mix made it feel like a disaster, especially with the pandemic on top of it all.
When I was closer to my due date, I would have the worst dreams at night and scary thoughts during the day, worrying that my baby wouldn't make it because of my asthma. My care team assured me things would be okay since they knew about my asthma ahead of time. When you're about to give birth, it can feel like there's so much that could go wrong. Will my baby lose oxygen? Will the C-section go smoothly? Will I see my baby right after the birth? Will my health affect how the delivery goes?
My worried brain went from 0 to 60 so quickly. Fortunately, I had a great team of doctors, including my allergist, who reassured me and made sure my health and the health of my baby were priorities. I'm grateful to say that everything went smoothly and I gave birth to a healthy baby.
From the start, reach out to your doctors when you're pregnant. Having a care team that understands you and your baby is key. Not every doctor is one-size-fits-all, especially if you're on the road to having a C-section. Find doctors who have experience caring for women with asthma during pregnancy. Also, make sure you know your triggers when it comes to your asthma. My asthma worsened when I wore masks, when I was in a place without good ventilation, and when I exercised once my baby bump started weighing on me. Learn the best ways to take care of yourself and listen to your body.
Was this helpful?