PHYSICIAN VOICES

Eosinophils: How These Little Cells Make Asthma Worse

Was this helpful?
While we're not sure of the exact cause of asthma, we do know that tiny cells called eosinophils may play a role, especially in patients with severe asthma.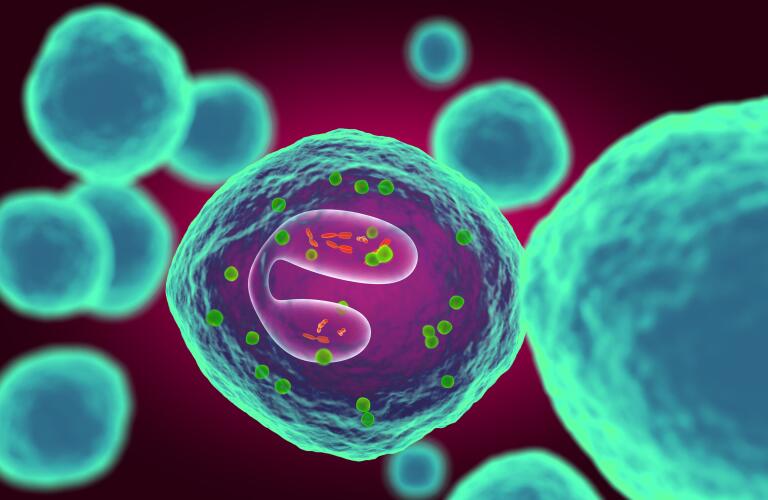 Asthma is a chronic lung disease, which is characterized by airway inflammation and spasming (tightening). An eosinophil is one of the five types of white blood cells circulating in our blood. Eosinophils function as part of the body's immune system. They play a major role in fighting infections, such as viral and parasitic infections, releasing chemicals toxic to these invaders. In doing this, eosinophils create inflammation.
However, inflammation has a damaging effect when it comes to the lungs' airways. Eosinophilia (i.e., high eosinophil numbers) can be associated with chronic sinusitis, chronic obstructive pulmonary disease (COPD), allergies, and of course, asthma. In fact, eosinophilia is associated with more severe asthma and more frequent asthma attacks.
These high levels of eosinophils have been found not only in the blood of asthmatics, but lining the airways themselves, and in sputum (phlegm). When activated, these eosinophils release chemicals which are harmful to the lungs. These chemicals damage the airways, immediately causing mucous production and spasm. Over the long term, the effect of these chemicals causes chronic inflammation and remodeling (scarring) of the airways.
Remodeling is irreversible, non-repairable, and results in airway narrowing, which makes asthma much more difficult to treat. The effects of eosinophils on the airways result in asthma symptoms such as coughing, wheezing, chest tightness and shortness of breath.
Asthma isn't always made worse by eosinophils, but patients with eosinophilic asthma have more emergency room visits and hospitalizations for asthma. They experience frequent exacerbations (flare-ups), frequent use of oral steroids, and poor asthma control despite taking many medications at high doses.
Historically, therapies for asthma aim to reduce inflammation and relax airway muscles to reduce symptoms. Medications include inhaled steroids, leukotriene inhibitors and bronchodilators. However, patients with severe asthma have not always achieved sufficient asthma control with these treatments.
New biologic treatments are now targeting the eosinophil directly. Biologics are medications produced from living organisms that block targets to reduce inflammation. Lowering eosinophil levels in the blood and sputum of asthmatics results in fewer asthma attacks and doctor's appointments for asthma.
Mepolizumab (Nucala) was the first biologic approved to reduce the number of eosinophils in patients with eosinophilic asthma. Other biologics for asthma include Cinqair, Dupixent, Fasenra and Xolair.
Ask your doctor whether a medication that targets eosinophils directly could help you improve your asthma control.
Was this helpful?