Easing Anxiety At the Onset of an Asthma Attack
Was this helpful?
Many people get nervous when they feel an asthma attack beginning. Unfortunately, if you react with a surge of anxiety, it might make the whole experience worse.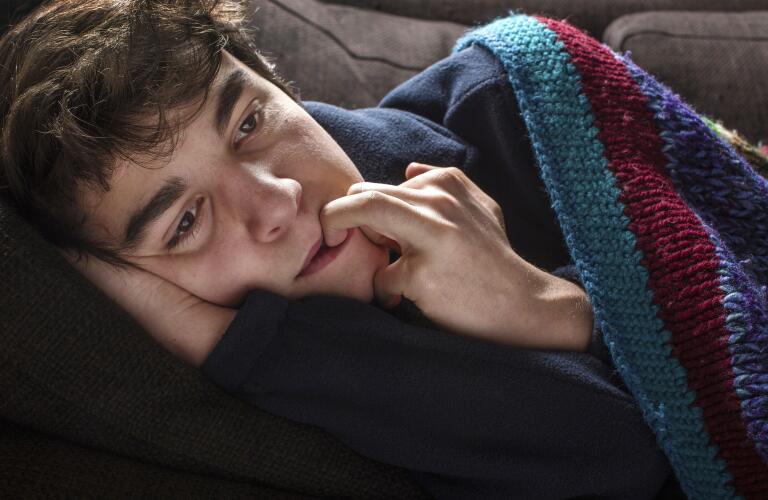 When you feel an asthma attack coming on, it's pretty common to experience things like coughing, wheezing, and shortness of breath. And you might understandably feel a bit anxious. Just about anyone would be nervous about having trouble breathing. Learn how to ease your asthma anxiety so you don't let your worries or fears make the asthma attack more severe.
Anxiety and asthma often go hand in hand. For many people, stress is a trigger for their asthma. When they're feeling anxious and stressed, they're more likely to experience an asthma attack. And some people get anxious about their asthma itself. Either way, the anxiety can make you feel like you're having an even harder time breathing than you usually would have.
To complicate things, it can be difficult to sort out the asthma symptoms from the anxiety symptoms, since they can be similar. When you get anxious, you may begin to breathe faster. You might think your airway is tightening up, and that might cause even more anxiety. Before you know it, your breathing is ragged, uncontrolled and rapid. It might seem like you're having an asthma attack. Similarly, when an asthma attack is starting, you may experience a flutter of panic.
One way to tell the difference: how your body responds to treatment. If you use your rescue inhaler, which involves a quick-acting agent like albuterol and levalbuterol, you should start to experience some relief if you're suffering from an asthma attack. If it's just anxiety, the rescue inhaler probably won't make much difference.
It might sound funny to your ear: breathing retraining. You might even wonder how it's possible to retrain yourself to breathe differently. But more and more healthcare experts are using breathing retraining to help their patients conquer the anxiety that can often accompany their asthma.
You will learn certain techniques that help you modify how you breathe–and how fast you breathe–to help you regain a sense of control. This might include:
slow breathing exercises
Buteyko breathing, which involves inhaling and exhaling air through the nose in a pattern that alternates normal-length breaths with a short inhale and a long exhale
breathing from the diaphragm
pursed lip breathing exercises
relaxation exercises
Another benefit of breathing retraining is that it's a non-pharmacological approach. You don't have to use any medications or treatments that could potentially interact or interfere with the medications you already use to control your asthma. There are no side effects to worry about, either.
Breathing exercises and relaxation exercises might be very effective in helping you. But research suggests that you might also consider trying cognitive behavioral therapy or biofeedback.
Cognitive behavioral therapy
With cognitive behavioral therapy, you learn how to recognize unhelpful thinking or learned patterns of behavior. When you can identify them and understand why and when they're happening, you can interrupt them. Next, you learn some strategies for handling challenging situations.
Meanwhile, biofeedback uses information from your body to illustrate how you're responding to a stimulus. Your doctor might use a heart rate monitor to see how your heart rate changes, sensors to measure activity in your sweat glands, or any of several other methods. There are even wearable devices you can take home and wear as you go about your daily life. With this information, you can learn to recognize when your body responds to stress or anxiety. Then you can consciously work on calming yourself down with some deep breathing exercises or other strategies.
For some people, preparation can help them stay calm. Knowing you're prepared to respond to an asthma attack may relieve some of your anxiety about your asthma. If you know that you have a rescue inhaler on hand you can use, you might not worry so much about the potential onset of wheezing, coughing, and shortness of breath. If you stick to your asthma action plan, you'll know you're doing all you can do to manage your asthma. This might help you remain calmer.
If you feel unable to manage your anxiety effectively, talk to your doctor. While many people find breathing exercises, yoga, and other stress-reduction techniques help them tamp down their anxiety, you may need something else. It's possible you could benefit from taking an anti-anxiety medication. Your doctor can discuss your options, including benefits and side effects of these meds.
Was this helpful?