Asthma Inhalers, Sprays and Puffers
Medically Reviewed By William C. Lloyd III, MD, FACS
Was this helpful?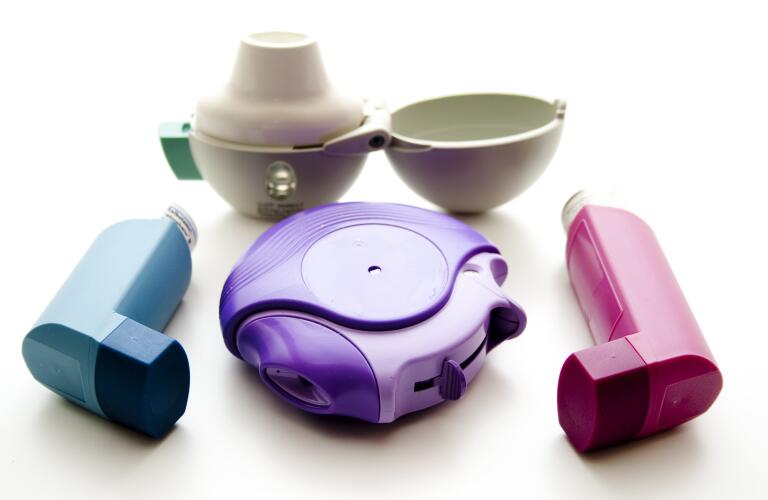 If you are diagnosed with asthma, your doctor will probably prescribe an asthma inhaler, a small portable device that delivers an exact amount of asthma medication directly into your lungs.
Inhalers, when used properly, are one of the most effective ways you can take asthma medications. They are easy to use once you get the hang of it.
You may hear people use the terms "asthma spray" or "asthma puffer" when talking about asthma treatments. These are common terms that all refer to asthma inhalers. There are a variety of types of asthma inhalers. In general, all inhalers deliver a precise amount of medication by propelling a spray or powder into your lungs as you inhale deeply. Certain types of inhalers may work better for you than others.

Metered dose inhalers (MDIs) use a small, handheld aerosol canister that, upon being pushed, releases an exact amount of medicine for you to inhale through your mouth. Some MDIs release the medicine as soon as you take a breath so you don't even have to push the top of the canister.
Your doctor may recommend that you use a spacer, also called a chamber, with a metered dose inhaler that contains corticosteroids. Spacers are long tubes that connect to your inhaler mouthpiece. Some inhalers have a built-in spacer. When using a spacer, you inhale the medicine from the end of the spacer instead of the inhaler mouthpiece. Medicine is stored in the chamber giving you time to slowly breathe in all the medicine. This helps more medication reach your lungs.
Dry powder inhalers (DPIs) do not use a propellant to release the medicine. Instead, a dry powder medicine is drawn into your lungs after you take a fast, deep breath. DPIs are often dispensed for long-acting medications, whether a it's single agent or a combination of asthma drugs. Some people prefer these types of inhalers because they find they are easier to coordinate with their breath. Other people find them harder to use because they require a fast, deep breath. This can be hard to muster during an asthma attack.
It is very important that you use your inhaler properly so that the correct amount of medicine reaches your lungs. To get the most benefit, a full dose of medicine must reach the smallest air passages in your lungs. Improper use of the inhaler can leave medicine residue in your mouth, which can cause irritation and make the irritated surfaces more prone to infection. Using your inhaler effectively can take a bit of practice, but you can master it easily with the right tips.
Read instructions: Before using your inhaler, read the instructions carefully. How you use your inhaler will depend on the type of inhaler you have.

Check the labeling. Many inhalers have a similar shape and color. To avoid confusion consider putting an extra label or tag on your inhalers (if you have more than one) so you can easily tell them apart.

Exhale fully: With the inhaler away from your mouth, breathe out until you feel that there is no air left in your lungs.

Position inhaler: Place the inhaler mouthpiece in your mouth between your teeth and close your lips around it to form a snug seal.


Inhale deeply: Breathe in deeply until you have taken a very full breath. You inhale slowly for many types of MDIs, while DPIs require a quick breath in. Follow the specific instructions for your inhaler. If you are unsure how to breathe in with your inhaler, ask your doctor.

Hold your breath: After taking a deep breath, remove the inhaler from your mouth and hold your breath. Generally, you should hold your breath for about 10 seconds before breathing out.

DPIs that dispense steroid medication require you to gargle and rinse your mouth with water after each use. This helps remove any residual steroid powder, which otherwise could lead to an oral fungal infection.

It's critical to not share your inhaler with a friend or use someone else's inhaler. You could end up taking the wrong amount of medicine. Again, many inhalers look alike. Also, you can spread an infection, such as a cold or the flu, which can trigger your asthma symptoms.
If you have any questions about how to use your inhaler, talk to your doctor or pharmacist. Good asthma control depends on taking your medicine properly. Make sure you are using your inhalers right so that you get the most out of your asthma treatment.
Was this helpful?