6 Tips for Enjoying the Outdoors With Severe Asthma
Was this helpful?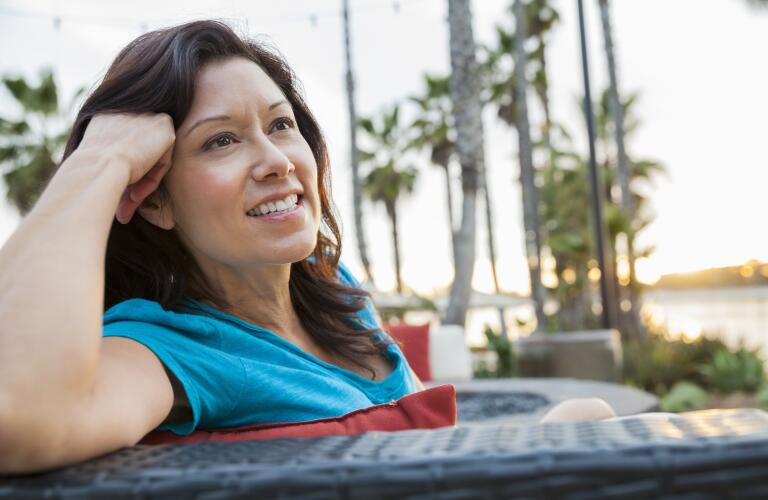 About 25 million Americans live with asthma, a condition in which airways swell and tighten when reacting to triggers, making it difficult to breathe. Most people can manage their symptoms with proper treatment and lifestyle changes. But about 5 to 10% of asthmatics struggle to control their asthma, even with high doses of many different medications. This type of asthma is called "severe asthma," and it can make ordinary activities like climbing the stairs or walking the dog challenging. Spending time outside can be especially difficult for those with severe asthma, as the great outdoors is full of allergens that may trigger asthma symptoms. Fortunately, new treatments and strategies are available to help you live a normal life—and get some fresh air—with severe asthma.

Identify and avoid triggers.

Recognizing and avoiding your asthma triggers is key to managing your asthma. People with severe allergic asthma tend to be triggered by allergens in the environment; common triggers you'll come across outside include air pollution, mold, smoke from burning wood or grass, and pollen. But even if your triggers seem difficult to avoid, you can still breathe free outside with some strategies in mind. Educate yourself on air pollution and pollen levels in your area. Choose to spend most of your time outdoors when these levels are at their lowest. And when planning outdoor vacations, research destinations with low levels of pollution, pollen, and mold to ensure a fun and safe trip.


Find the right maintenance medication.

An important step in managing severe asthma—indoors and outdoors—is identifying effective medication. With severe asthma, patients may need high doses of corticosteroids to stay in control of their symptoms, but even that might not be enough. New treatments that get to the root of asthma, called biologics, may be helpful for these patients. Omalizumab (Xolair) treats allergic asthma specifically, while mepolizumab (Nucala) targets asthma that's worsened by white blood cells called eosinophils. Talk to your doctor about finding the right medication to control your symptoms.


Always have relief medications on hand.

No matter where you are, it's important to always have your relief inhaler close by in case of emergency. When you're spending time outdoors, this is especially important if you're sensitive to outdoor triggers. Talk to your doctor about beneficial usage of your short-acting medication; some asthmatics, especially those with severe asthma, may find it helpful to take a dose of medication before venturing outside, to prevent symptoms before they occur.


Be prepared in cold weather.

Cold weather is a common trigger for people with severe asthma. Enjoy a brisk walk during the winter by lessening the cool air's effects; try to breathe through your nose as much as possible to warm the air before it reaches your lungs, and if you're breathing through your mouth, wear a scarf over your face to heat up the air you breathe first.


Protect yourself during pollen season.

When yellow specks are covering every surface around you, it can be difficult to control your severe asthma symptoms. But it's possible to spend time outside during pollen season if you're adequately equipped. To lessen the effects of pollen, avoid going outside when pollen levels are highest, between 5am and 10am. Don a mask and gloves when working outside and consider keeping pollen-covered clothes outside or in the garage. Once you're back inside, wash your hair and body to make sure no pollen sticks around.


Take a buddy.

Always make sure you've got a companion with you when enjoying the great outdoors. If your asthma symptoms worsen, or if something triggers a full asthma attack, it's important to have someone available to assist you and lend support. Your friend should be familiar with your asthma action plan and know what to do and who to call in case of emergency.

Was this helpful?