5 Allergic Asthma Triggers to Avoid
Not everyone with asthma has allergies. However, it's pretty common. According to the Asthma and Allergy Foundation of America (AAFA), about 60% of people with asthma have allergic asthma — that is, exposure to certain allergens tends to trigger their asthma symptoms.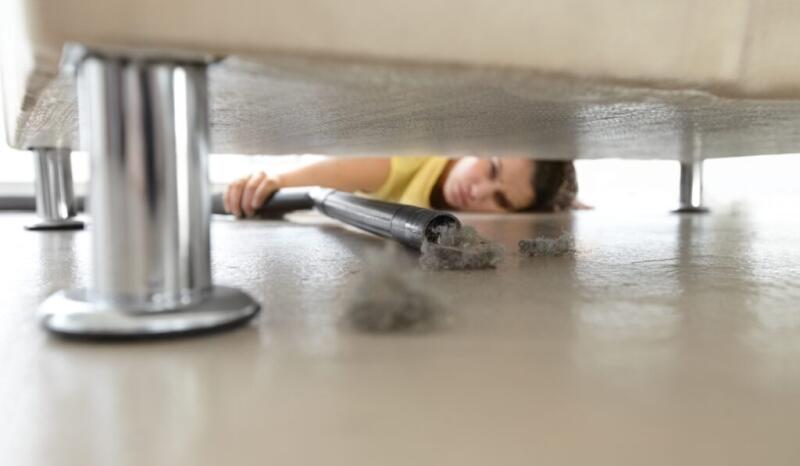 If you have this type of asthma, your immune system will respond to an encounter with an allergen by releasing an excessive amount of a type of antibody called immunoglobulin (IgE). When allergens bind to IgE, it can trigger swelling in the airways of your lungs, making breathing harder. Before you know it, you're having an asthma attack.
Allergic asthma and nonallergic asthma have the same symptoms: coughing (especially at night), wheezing, shortness of breath, tightness in the chest, and difficulty breathing. Your symptoms may worsen if you experience exposure to other factors that may trigger nonallergic asthma, including the common cold, stress, and certain weather conditions.
Pollen can be a doozy for many people with allergies, including allergic asthma. It's one of the most common triggers of allergic asthma attacks, and it's hard to avoid, since pollen from trees, grass, and weeds travels through the air.
You can stay on top of the pollen count in your area by monitoring your local weather report and by consulting the American Academy of Allergy, Asthma & Immunology's National Allergy Bureau, which tracks pollen counts around the country.
When the pollen count is high in your area, you may want to stay indoors as much as possible — and keep the windows closed. Consider using an indoor air cleaner with a high efficiency particulate absorbing (HEPA) filter, too.
Dust mites are invisible to the human eye. However, these microscopic insect-like creatures are just about everywhere. They live in mattresses, furniture, bedding, and anywhere else where they can feed on dead skin cells shed by people.
If an army of dust mites in your home is your enemy, thanks to your allergic asthma, you'll need to focus on prevention.
Preventive strategies to try can include vacuuming your floors regularly with a vacuum with a HEPA filter, washing and drying your bedding frequently, and using allergen-proof pillow and mattress covers. Dust mites thrive in humid environments, so you can also try using a dehumidifier and running the air conditioning to keep the humidity below 50%.
Mold is another common trigger for allergic asthma attacks. Where there's moisture, there's often mold. In your home, mold may lurk where moisture tends to collect. Think: damp bathrooms and basements. Leaky faucets and pipes are also a possible source. Then, when you breathe in the mold spores, it can trigger symptoms.
The best strategy is prevention: If anything in your home gets damp or wet, dry it out within 24–48 hours to reduce the likelihood that mold will grow. Fix water leaks promptly for the same reason. Even if nothing is actively leaking or collecting water, you might want to use a dehumidifier in your home to keep humidity levels low.
You can love your dog or cat but hate how their dander triggers coughing, wheezing, and shortness of breath. (Many otherwise happy pet owners may worry about this allergy, since about 10–20% of the population has a cat or dog allergy.)
The reason for your wheezing: A protein in your pet's dander, saliva, or urine can trigger allergic asthma symptoms. Talk with your allergist about the best course of action, which may include keeping your pets out of your bedroom at night, frequent house cleaning, regular baths for your pet, and keeping your pets off the furniture.
No one wants to think about cockroaches skittering across the kitchen floor when they're asleep at night — until they discover that these pests may be causing them to have trouble breathing easily. Then it's time to embrace a full-out attack on these critters, since their feces, saliva, and body parts can trigger allergic asthma symptoms.
According to the AAFA, baits and traps are preferable to sprays because sprays may further irritate your allergies and worsen symptoms. Additionally, avoid leaving any food, even pet food, out at night, and clean up any stray crumbs. Sweep and vacuum your floors regularly, and seal up any cracks in your walls that might let cockroaches creep inside.
Whatever your particular allergic trigger is, you probably want to avoid it as much as possible. However, let's be realistic: It may be impossible to completely avoid some triggers like dust.
You may also need to be vigilant about other common asthma triggers, including smoke, pollution, cleaning products, and chemicals, even cold weather, all of which can trigger asthma symptoms in general, even if you don't have allergic asthma. Respiratory viruses, like colds, influenza, and the respiratory syncytial virus, can trigger asthma symptoms, too.
Talk with your allergist about an asthma action plan that will help you manage your asthma and address allergic asthma symptoms at the earliest symptom of a wheeze or cough. Get medical attention if you have difficulty managing your symptoms, even when you use a rescue inhaler as directed by your doctor.
Was this helpful?