4 Asthma Management Tips for People of Color
Was this helpful?
People of Color experience additional barriers to care when seeking asthma treatment. Due to racial disparities, environmental factors, and socioeconomic elements, Communities of Color are disproportionately affected by asthma. Learning about the condition and how to access culturally competent care may make a difference in treatment.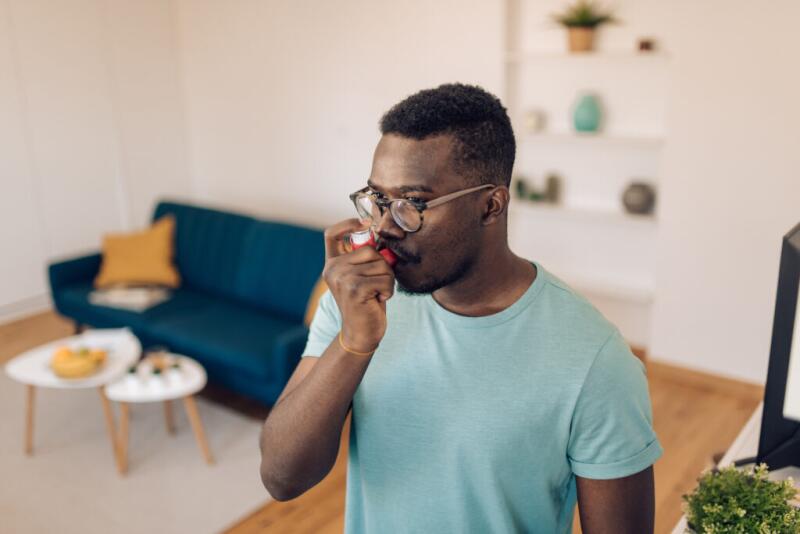 According to the Asthma and Allergy Foundation of America (AAFA), People of Color have the highest asthma rates in the United States. A 2020 report from the AAFA suggests public reform policies, racial inequality in healthcare, biological determinants, and socioeconomic factors play a role in the current state of asthma disparities.
For adults and children in Black, Hispanic, and Indigenous communities, the keys to better asthma outcomes include finding a medical professional who understands the racial and cultural elements that affect treatment, and learning all about asthma — including environmental triggers — to be proactive about beneficial lifestyle changes.
People of Color managing asthma experience additional barriers when seeking quality care. However, taking a proactive role and having an action plan can help you avoid complications. Keep reading to learn four asthma management tips for People of Color.
Greater exposure to environmental triggers is one reason asthma affects People of Color at higher rates than the general population. The AAFA notes that social determinants, such as a neighborhood and physical environment, as well as socioeconomic status, are among the main factors that lead to the racial and ethnic disparities in how asthma affects Communities of Color.
One of the primary environmental factors that can worsen asthma is air pollution. The American Lung Association (ALA) reports that People of Color tend to experience greater exposure to air pollution and poor air quality than other groups — mold, insect parts, mouse/rodent allergens and gas or diesel fumes are also common triggers. If you have asthma, try to reduce your exposure to the triggers that tend to aggravate your symptoms. A few recommendations include:
Limiting time outdoors on days when pollution levels are highest and air quality is poor.
Taking steps to eliminate mold, dust, insect parts, and animal dander from your home.
Ensure your home's air-conditioning system works properly and air filters are cleaned or replaced regularly.
Asthma requires ongoing monitoring, so it's important to find a culturally competent doctor who makes you feel confident about treatment options and resources. Be proactive about finding a doctor who is familiar with treating People of Color; this will make you feel at ease. You can reach out to your health insurance company for additional information about finding culturally competent care.
Also, you can always request translation resources to make sure communication is effective. The doctor's office can provide language assistance or you can make arrangements to bring your own translator. During a doctor's appointment, you may find it helpful to talk about your triggers and other factors affecting your asthma symptoms.
The Centers for Disease Control and Prevention (CDC) says Black and Hispanic people are more likely than white children and adults to visit a hospital emergency room for asthma symptoms. For many people without health insurance or without a primary care doctor, the hospital emergency room can be one of the main resources of healthcare and medical treatment. Too often, however, these visits occur when breathing problems are severe and potentially life threatening.
A 2020 study found that Hispanic and Asian American emergency room patients were more likely than white patients to be admitted to the hospital for any type of medical emergency. And Black patients had higher mortality rates than all other groups after emergency room visits, regardless of the reason for the visit. When it comes to asthma, trips to the emergency room can often be avoided. The key is to make sure you have an asthma action plan, which can include a list of the following:
known asthma triggers
medications
signs of worsening symptoms
emergency contacts
It's also crucial for people who rely on inhalers to make sure they have easy access to working inhalers at all times. Having more than one in your home and carrying one with you at all times is recommended.
The challenges of living with asthma or caring for someone with the condition can be great, especially for People of Color trying to overcome racial and ethnic barriers to healthcare. However, you don't have to face these obstacles alone.
Community hospitals, medical centers, public health agencies, and other institutions often host support groups for a wide range of health conditions. Ask your doctor or local health clinic about asthma support groups in your area for People of Color.
Hearing from people coping with the same issues can be comforting and helpful. You may learn about culturally competent doctors in your area, financial resources to help pay for medications, or transportation services for doctor's appointments. Asking for help will empower your treatment journey and allow you to live a full life.
Was this helpful?