Talking With Your Doctor About Aortic Valve Replacement
Medically Reviewed By William C. Lloyd III, MD, FACS
Was this helpful?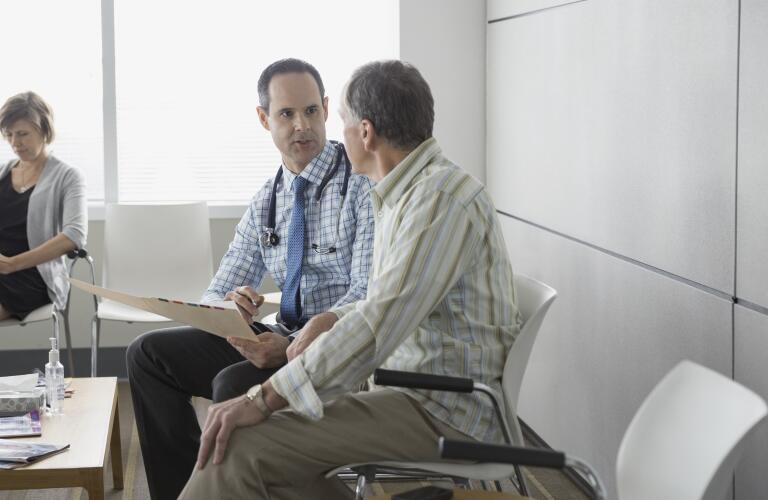 Aortic valve replacement removes a diseased or damaged aortic heart valve and replaces it with a new valve. The aortic valve keeps blood flowing in one direction out of the heart and into the large blood vessel called the aorta. The valve opens to allow blood to flow forward to the body and closes tightly so blood does not leak backwards into the heart.

Common reasons for an aortic valve replacement include:
Aortic regurgitation or insufficiency, which is a leaky valve that doesn't close properly
Aortic stenosis, which is when the valve opening becomes narrow because the valve doesn't fully open
Congenital aortic valve disease that is present at birth
Your doctor can tailor your treatment plan to your specific valve problem and symptoms. But individualized care starts with a conversation. Here are topics to bring up with your doctor that will help him or her decide the best course of treatment—for you.
Not all valve problems require surgery. If valve disease is mild, your doctor may recommend monitoring your condition. When mild symptoms occur, they may respond to medications. But as valve disease progresses, your doctor will want to know when you experience symptoms and how severe they are.
Keep a symptom diary, and call your doctor if you're having new symptoms. Try to describe them in detail, such as when you have them and how they're affecting your daily life. For example, you could say, "I'm having problems breathing when I lie down and it's interfering with my sleep."
Mention if you're having chest pain, fainting spells, or heart palpitations. Try to notice if your symptoms are related to activity or if you have them even at rest. The goal of treatment is to relieve symptoms and improve your quality of life.
Heart valve disease is a progressive condition. In many cases, surgery is eventually necessary to prevent permanent disability or death. Some people may qualify for valve repair, but most will need valve replacement. There are options for aortic valve replacement including:
Mechanical aortic valve replacement with a metal, plastic or carbon valve
Tissue aortic valve replacement with a human or animal donor valve
Ross procedure that uses your own pulmonary valve to replace the aortic valve, and a donor valve to replace your pulmonary valve
TAVR (transcatheter aortic valve replacement) that places a new aortic valve without removing the diseased valve. Another name for this is TAVI (transcatheter aortic valve implantation).
Ask your doctor why he or she thinks a certain treatment is right for you. Ask about the risks and benefits of the treatment your doctor recommends.
Each type of aortic valve replacement has its advantages and disadvantages. Depending on your age and your lifestyle, some may be more important to you than others. Have a detailed talk with your doctor and be honest about your preferences. Consider how each type of aortic heart valve replacement would work for you.
Mechanical (artificial) valves
Mechanical valves tend to last for decades or even a lifetime, but you must take a blood thinner to prevent blood clots. The longevity of the valve may be attractive to younger patients. But taking lifelong blood thinners requires a commitment and detailed attention to your diet and lifestyle.
Tissue valves
Tissue valves don't require blood thinners, but they tend to wear out more quickly than mechanical valves. This means another replacement is likely for younger people. However, the valves tend to wear out slower in older people. This means that a tissue valve could last a lifetime for these patients. It also allows older people to avoid the risks of blood thinners, which tend to increase with age.
Ross procedure
The primary advantage of a Ross procedure is that the aortic valve replacement can grow. This makes it an attractive option for children and teens who are not finished growing. With this type of replacement, it is highly likely that you would need another valve replacement within 10 years. Despite this, it may still be the best choice for young patients.
TAVR
TAVR (transcatheter aortic valve replacement) is a catheter-based procedure to treat severe aortic stenosis (narrowing). It is a minimally invasive procedure that can relieve symptoms and improve your quality of life without having to undergo open-heart surgery.

Consider getting a second opinion about your treatment choices before deciding. Second opinions can give you more information about your condition and can help you feel better about your decision.
Was this helpful?