How Telehealth Can Help People With Aortic Stenosis
Was this helpful?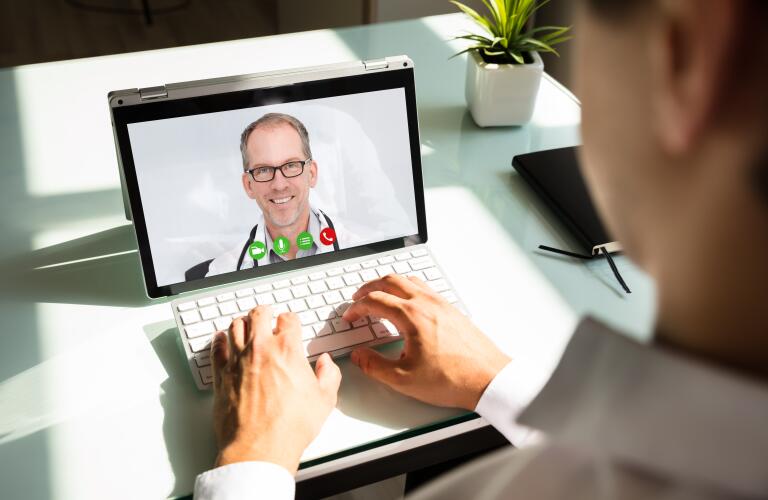 Blood flows from your heart out to the rest of your body by means of your aortic valve. But if your aortic valve becomes narrowed, a condition known as aortic stenosis, your heart is forced to work harder to pump needed blood to your organs and tissues. Aortic stenosis tends to worsen over time, and if not properly treated, it can cause serious heart problems.
When people with aortic stenosis start to experience symptoms like shortness of breath and chest pain, it may be time to replace the aortic valve, either by transcatheter aortic valve replacement (TAVR) or surgical aortic valve replacement (SAVR). You'll check in regularly with your cardiologist to determine the right time to replace your valve. But sometimes, like during the COVID-19 pandemic, you can't make it to the doctor in person, which is where telehealth comes in.
How do you continue to receive needed healthcare in the era of social distancing and efforts to slow the spread of the coronavirus? Telehealth can enable you to connect with your doctor via phone call, text message, or most commonly, video chat. By joining your provider for a virtual appointment, you can accomplish many of the same things as you would in an office visit. And since underlying medical conditions, like aortic stenosis, may put you at greater risk of a more severe case of COVID-19, staying at home and avoiding potential exposure to the virus is even more important.
During your telehealth appointment, you can ask questions and let your doctor know if you have new or worsening aortic stenosis symptoms. Your doctor can also review and prescribe medications. If you've been asked to monitor your condition at home–checking your blood pressure, daily weight, heart rate, or oxygen saturation–you can share and discuss this information.
Telehealth encompasses more than a live two-way virtual visit. Do you need a medication refill? Did you forget to ask a question during your appointment? Using telehealth, you may have the ability to contact your doctor via text or email over a secure network. Some practices even offer virtual check-ins, which are brief communications with your doctor over phone or video between scheduled appointments.
Your doctor will decide how to proceed with your care after your telemedicine visit. If your aortic stenosis is mild and you aren't experiencing any worrisome symptoms, you may not need treatment. Instead, you'll continue to be regularly monitored, though you should stay in contact with your doctor should your condition change.
My Aortic Stenosis Confession: Susan
But if you are having shortness of breath, fainting, fatigue or any of the signs of severe aortic stenosis, your doctor may suggest you come in for an in-person appointment. Certain things, such as a physical examination or an echocardiogram of your heart, can't be performed remotely. The only true fix for aortic stenosis is to replace the valve, and your doctor will discuss these procedures should they become an option for you.
Keep in mind, telehealth is not meant to be used for emergency care. Call 911 if you are having significant breathing difficulty or if you think you are having a heart attack or stroke. Emergency responders and hospitals are taking precautions to keep you safe, so don't hesitate if you need urgent medical attention.
Was this helpful?