SOCIAL VOICES

5 Helpful Resources for People with Aortic Stenosis from Someone in the Know

Was this helpful?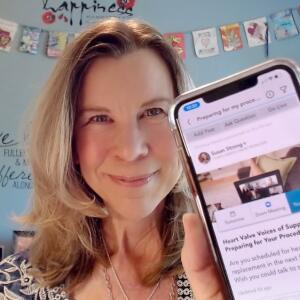 When I walked out of the cardiologist's office at age 49 after receiving a diagnosis of severe aortic stenosis (AS), my head was spinning. I sat on a bench in front of the hospital entrance trying to process what I had just been told. In that appointment, my doctor had explained that aortic stenosis occurs when the heart's aortic valve no longer opens normally and the flow of oxygenated blood to the body is restricted. Aortic stenosis is one of the most common and serious heart valve problems, and the treatment for severe aortic stenosis is valve replacement. I needed to sit for a few minutes to let it all sink in before I could find my car in the parking garage and drive home.
Once I processed the initial shock, I spent hours in front of my computer searching for information to learn as much as I could. I didn't know much at all about aortic stenosis beyond the brief overview my doctor gave me. I struggled to find resources online specifically for patients, and what I did find wasn't comprehensive or easily accessible in one location. I also wished I could talk with other patients who had been in my shoes and could share insights they had learned through their own experiences.
I was fortunate to be offered transcatheter aortic valve replacement (TAVR) in 2014 because the chest radiation I had received to treat Hodgkin lymphoma as a teen placed me at high risk for poor outcomes with the then-standard method of valve replacement: open-heart surgery. My doctor explained that TAVR is a minimally invasive procedure in which a catheter is placed in the femoral artery in the groin. Then, a new tissue valve is threaded through the catheter, carefully placed over the diseased valve, and the new valve starts working immediately. Now, TAVR is approved for all people with severe aortic stenosis, even if their risk of complications from open-heart surgery is low – although many doctors recommend it particularly for patients 65 and older. It was important to me to find a physician who really listened to my concerns and took my priorities (and risk tolerance) into account, using shared decision-making to determine the treatment that was right for me. I was nervous prior to my TAVR, but my doctor connected me with Bill, one of his patients who'd been through the procedure before. Talking to Bill helped ease my worries, and reinforced the idea that sharing experiences and resources with others could make a world of difference.
Shortly after my TAVR, I was feeling great, and thrilled that I finally had my quality of life back! I wanted my difficult experience to serve a purpose, so I began searching for opportunities to help other patients facing valve replacement. I saw a need for more educational resources and support, and I wanted to help bridge that gap. I created a website, http://www.strongheartnow.com, and started connecting with individual patients one by one.
I felt a particular connection with cancer survivors diagnosed with AS, because I was surprised to learn that my aortic stenosis was a result of chest radiation I received as a teen to treat Hodgkin lymphoma. I had no idea that my cancer treatments decades earlier increased my risk for heart valve disease.
My Aortic Stenosis Confession: Susan
I often helped other Hodgkin lymphoma survivors I met online to access TAVR after they had initially been told they weren't eligible for the procedure because they were too young. I became a Heart Valve Ambassador with the American Heart Association, and in 2016 became the founding president of Heart Valve Voice US, the only patient-lead nonprofit in the U.S. that exclusively focuses on improving the diagnosis, treatment, and management of heart valve disease.
It is gratifying to be able to provide others with information I wish was available right after my diagnosis. Over the years, I've identified numerous resources to share with people navigating this path. Here are some of the resources I find myself recommending over and over.
On our most recent call, we were able to offer support and practical tips to a gentleman who is scheduled for TAVR in 2 weeks. His wife sat down at the computer and joined him. Another couple on the call had been in a similar situation just 9 months earlier. We all ended the call feeling uplifted. Those of us who had already had our valve replacements shared how meaningful it is to be able to use a difficult experience to help others, and one of the men on the call said to the gentleman, "Soon, you'll be here where I am, feeling great on the other side of this, encouraging someone else with an upcoming valve replacement."
The couple looked visibly relieved, their shoulders relaxed by the end of our conversation. The genuine smiles and friendly waves from every participant as we ended the call expressed the power of patient-to-patient support more than words ever could. If you're navigating a diagnosis of aortic stenosis, know you're not alone. There are resources and networks available to help guide and support you every step of the way.
Was this helpful?