Aortic Aneurysm Size and What It Means
Was this helpful?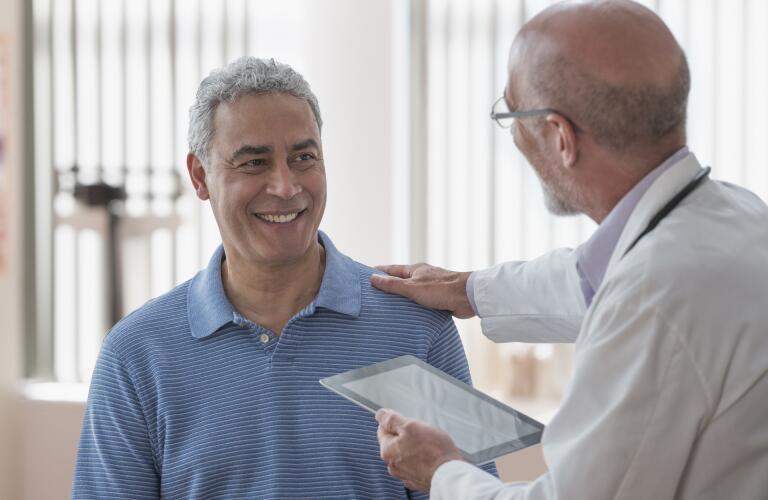 If you have an aortic aneurysm, you may not be aware of it. An aortic aneurysm is a balloon-like bulge that affects the aorta, the main artery that carries oxygen-rich blood directly from the heart to smaller blood vessels in your body. The aneurysm forms in the wall of the artery. Depending on the size of the aortic aneurysm and other factors, the aneurysm may press on adjacent organs (such as the esophagus or trachea) causing such symptoms as shortness of breath or pain in the chest or back (thoracic aortic aneurysm) or abdomen pain (abdominal aortic aneurysm). But sometimes people have no symptoms at all.
Doctors diagnose an abdominal aortic aneurysm when the diameter within the aorta is 3 cm (centimeters) or greater. Closer to the heart, a thoracic aortic aneurysm diagnosis is based on the person's age, sex, and which part of the thoracic aorta is measured.
While treatment for a small aneurysm is not always necessary, it's important to keep a watchful eye on it. Most aneurysms grow slowly. As aneurysms grow larger, the vessel wall gets weaker and may eventually rupture or split (dissect), which can be life threatening. A dissection is a tear in the innermost layer of the muscular wall of the aorta, which causes blood to flow in between the inner and middle layers; a rupture is a complete tear through the three-layered aortic wall causing massive internal bleeding. Dissection greatly increases the risk of rupture and reduces blood flow to the rest of the body.
Signs of a rupture may include:
Sudden, severe pain in your abdomen, chest or back
You can partner with your doctor in monitoring your aneurysm. Your doctor will likely schedule regular visits to evaluate the size of your aneurysm using a CT scan, MRI or ultrasound. He or she will also consider the location of the aneurysm, any symptoms, your age, and other health conditions to determine the need for any further treatment.
If you have a small aortic aneurysm (approximately 3 cm) at the time of diagnosis, your doctor may recommend healthy lifestyle changes or medicine to help prevent it from growing larger. This helps with managing other health conditions, such as high blood pressure, high blood cholesterol, and heart disease that can damage or weaken the walls of the aorta and increase the chance for rupture or dissection.
While certain genetic diseases, acquired diseases (like high blood pressure), and unhealthy behaviors can increase your risk for aortic aneurysm, there are things you can do to help:
Quit smoking. According to the Centers for Disease Control and Prevention (CDC), a history of smoking accounts for about 75% of all abdominal aortic aneurysms. But quitting for good is the best behavior change you can make to help slow the growth of an aneurysm.
Make healthy food choices. A heart-healthy diet can help lower blood pressure and cholesterol, which can reduce the risk of your aneurysm growing. Focus on a diet high in fruits and vegetables, lean meat and fish, and try to avoid fried and processed foods, which are high in added sugars and saturated and trans fats.
Reduce your stress. This can also help with reducing high blood pressure. Stress is a common symptom of the demands of modern life, so it's more important than ever to make time for rest and relaxation, whether it be a long walk, meditation, or yoga, or just time for talking and laughing with a friend. A healthy diet, regular exercise and good sleep habits are also key in keeping your stress level low.
Your doctor may also recommend medicines to help control your aortic aneurysm size. These can include:
Aspirin. Aspirin has been shown to be helpful in reducing the risk of heart attack and stroke, so it may be prescribed if you have other cardiovascular risks.
Blood pressure medicines, such as beta blockers, angiotensin-converting enzyme (ACE) inhibitors, or angiotensin receptor blockers (ARBs). These can help slow the growth of an aortic aneurysm and lower the risk of rupture.
Statins. These drugs keep cholesterol levels in check, which helps prevent fatty plaque from building up and damaging your blood vessels.
Sometimes surgery may be needed for an aortic aneurysm, depending on the cause, size and symptoms of the aneurysm. Surgery is typically reserved for aortic aneurysms that are 5.5 cm or greater in diameter.
Your doctor may also recommend aortic aneurysm surgery if:
The aneurysm is growing quickly, 0.5 cm or more over 6 to 12 months, regardless of its size.
You have more than one aneurysm along the length of the aorta.
A long section of the aorta is involved.
The aneurysm has ruptured or dissected.
You may have a choice of open surgery (most common) or endovascular surgery, which is less invasive with less recovery time. Endovascular repair is more likely with abdominal aortic aneurysms than thoracic aortic aneurysm.
Talk with your doctor about the different surgery options, along with other treatment measures, to find out what's best for you. Specifically, ask your doctor about your risk of complications from surgical repair compared to your risk of aortic aneurysm rupture if you decide not to undergo surgical repair. With the right treatment and close monitoring, you can rest easier knowing your risk of rupture is reduced.

Was this helpful?