How Emotional Support Animals Help Treat Anxiety
Medically Reviewed By William C. Lloyd III, MD, FACS
Was this helpful?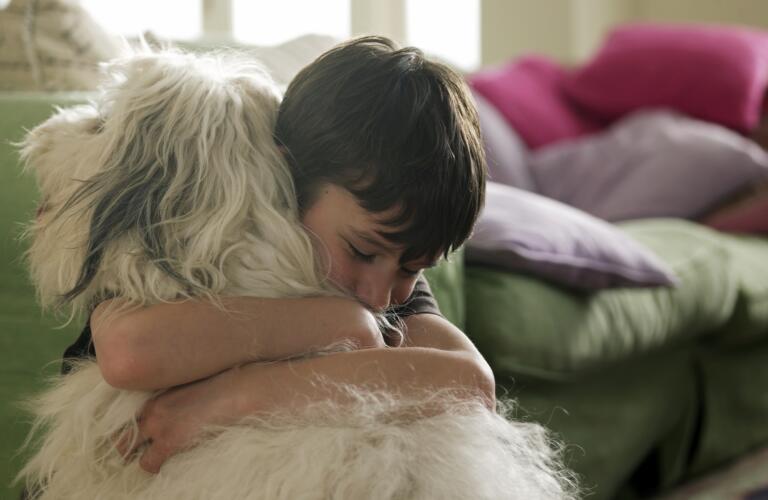 Emotional support animals provide comfort for people with a range of emotional disorders, including anxiety. With the number of these animals on the rise, it's becoming more common to see emotional-support dogs, cats, and even other creatures in public spaces, including areas that normally ban pets. And this raises some questions: What types of animals can serve as emotional support, and what are the official guidelines surrounding them? Are they a legitimate treatment? If you're considering an emotional support animal for your anxiety, be aware of the following rules, regulations and expectations.
Having an anxiety diagnosis doesn't automatically qualify you for an emotional support animal—you need a formal prescription. To officially register an animal, you need both an established diagnosis and letter from a licensed provider prescribing the animal as necessary for your health. Once you have that, you can begin the registration process, which takes place online through private agencies that provide you with documentation and tags for a fee. While they don't all require you to actually show your medical paperwork, when you bring the animal on, say, a plane, you will need to show the letter along with your animal's documentation.
An emotional support animal does its job by just being there, mitigating the symptoms of your anxiety with its calming presence. This means unlike service animals, they don't perform tasks or undergo any training to qualify as a support pet. While dogs are the most common species to be registered, other creatures can have the designation, too—cats, rabbits, birds, pigs and more—and the law doesn't exclude any particular species. The only requirement is that when out in public, your animal can't threaten the health and safety of others.
Emotional support animals don't have the same set of permissions that service animals do. However, you do have rights when it comes to airplanes and housing. Support animals are legally allowed to travel with you on planes, without having to stay in a crate under the seat, for no additional fee. Housing laws also guarantee your right to have your animal live with you, even if you reside in a community that doesn't allow pets. Beyond housing and airplanes, emotional support animals aren't required to be let into hotels, restaurants, stores or other private businesses, unless your individual state law says otherwise. Staying current on local laws, along with federal regulations, is the best way to know where your animal can go.
Since these animals don't undergo the same training or oversight as service animals, some say the potential for abusing the system is higher. Because federal law doesn't require emotional support animals to be trained, and doesn't regulate their certification, some say the process makes it too easy for people to register animals inappropriately. Many of the registration websites, which are run for a profit, only ask that you self-report having a disability and a letter from a healthcare professional. Many also offer links to therapists with whom you can communicate one time, online, both to get diagnosed with anxiety and be prescribed the emotional support animal. There have also been stories about poorly behaved animals, and complaints about their presence posing an unnecessary health risk to others. To ensure your animal is there for your anxiety, and not causing you more stress, take the time to train it, know the laws, and consult your doctor to ensure it's the best choice for you.
Research has demonstrated real benefits when it comes to animals and anxiety. Social interaction with pets has been shown to lower anxiety, increase calm, and enhance social engagement. Another study showed having a companion dog lowered elderly residents' anxiety in a long-term care facility, and another demonstrated that people were less likely to show stress responses to certain tasks when they had a dog with them. Pets can reduce anxiety, but working with your doctor is the only way to know if an animal is an effective solution for you.
Was this helpful?