What Is Axial Spondyloarthritis?
Medically Reviewed By William C. Lloyd III, MD, FACS
Was this helpful?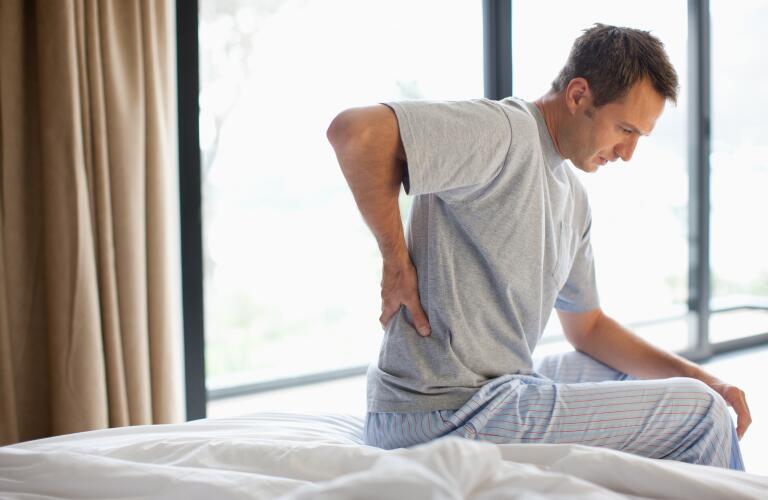 Chronic inflammatory conditions affect growing numbers of people in the United States. While some may assume these illnesses affect older individuals, that's not always the case. One such condition, axial spondyloarthritis, usually occurs in younger people and may significantly impact quality of life.
Axial spondyloarthritis affects joints inside the body, primarily the spine and pelvis. If you have axial spondyloarthritis, it may sometimes be difficult to live normally. But fortunately, several treatments effectively manage symptoms and help to slow the disease's progression. Your doctor can help you find treatments to help you live as normally as possible.
Spondyloarthritis is an umbrella term for a group of inflammatory rheumatic diseases–conditions characterized by inflammation in the joints and muscles–resulting in arthritis. Axial spondyloarthritis, one of the subtypes of spondyloarthritis, usually only affects the spine and pelvic joints. Generally, this condition causes inflammation within the bones, or vertebrae, of your spine. Additionally, inflammation is common in the sacroiliac joints, which are located in your pelvis.
The exact causes of axial spondyloarthritis are unclear. But doctors have identified certain risk factors which may increase your likelihood of developing symptoms. Young men are at highest risk for this condition, which usually starts causing symptoms in late adolescence or early adulthood.
Some genetic changes may also be related to axial spondyloarthritis. Several genes are thought to be responsible for the disease, but doctors have identified one major gene, HLA-B27, which is abnormal in most people with this condition. If you have a close family member with axial spondyloarthritis, you could be more likely to develop it yourself.
Symptoms may differ from person to person, but the majority of people with this disease experience lower back pain, soreness, and stiffness resulting from inflammation. In many cases, symptoms worsen in the early morning, which may cause interruptions in your sleep. Being inactive for long periods of time may make your symptoms worse.
People living with axial spondyloarthritis tend to experience flare-ups, where the symptoms of the disease become more severe. During these periods, you may also experience fatigue and neck pain. It isn't unusual for symptoms to disappear for a period of time, then reappear after several days or weeks.
To begin the diagnostic process, your doctor will likely first perform a physical examination after discussing your medical history and symptoms. Then, depending on your specific symptoms, imaging tests or blood work may be recommended.
In some cases, axial spondyloarthritis can't be seen in the spine or pelvis upon X-ray examination. When this occurs, doctors usually recommend other imaging tests, such as magnetic resonance imaging (MRI), which may be more likely to detect subtle joint changes sooner.
While no one blood test specifically tests for axial spondyloarthritis, your doctor may suggest blood work to test for HLA-B27 changes. Blood work may also help check levels of inflammation within your body, although many conditions result in this problem.
Because your symptoms may worsen after periods of inactivity, your doctor may first suggest physical therapy or some other type of exercise program. Research shows gentle stretching and range-of-motion exercises may be particularly effective at relieving your symptoms and preventing them from recurring.
Fortunately, many of the symptoms of axial spondyloarthritis respond well to nonsteroidal anti-inflammatory medications (NSAIDs), including ibuprofen or meloxicam. However, it's important to only use these medications under your doctor's supervision, since long-term use may cause complications like stomach bleeding.
If NSAIDs aren't enough, your doctor may suggest certain injectable medications, like corticosteroids. These medications are injected directly into areas of inflammation and are usually very effective. Other injectable medications, such as newer biological therapies, may help you feel better while also protecting your spine and pelvis from further damage.
Living with axial spondyloarthritis isn't easy, but there are treatments available that can improve how you feel while also preventing further harm to your joints. If you have symptoms of axial spondyloarthritis, your doctor can help you determine whether you should be treated for this problem. And if you need treatment, your doctor is the best person to help you figure out which therapies are best for you.
Was this helpful?