PHYSICIAN VOICES

The Risks of Not Treating Ankylosing Spondylitis

Was this helpful?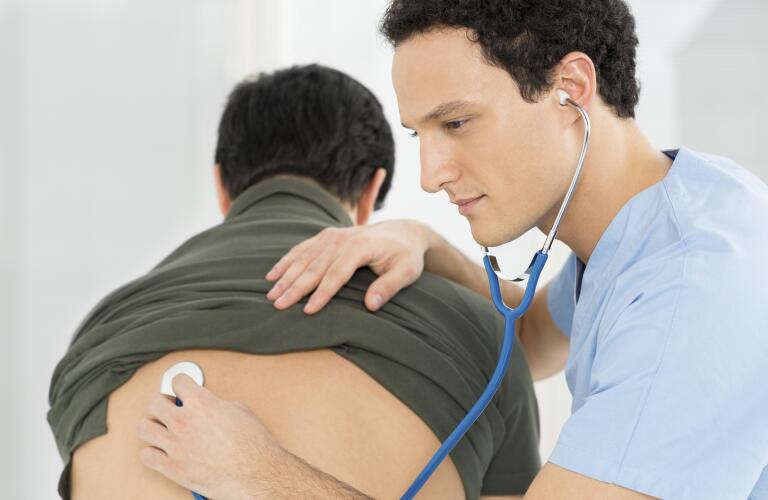 Ankylosing spondylitis (AS), a progressive inflammatory disease that affects vertebrae in the spine and often the hip, knee, and shoulder joints, can be difficult to diagnose. Many of my patients come to me with symptoms such as back and hip pain and stiffness, which are similar to other forms of spinal arthritis or general chronic back pain conditions. Early symptoms of AS are often minor and, as a result, are ignored or attributed to other things such as overexertion or injury. But, the longer AS goes untreated, the more debilitating and widespread symptoms may become.
While some people have only mild, occasional back pain and stiffness, others develop severe mobility issues that impact their range of motion and ability to perform even the simplest task such as tying their shoes. Early diagnosis and treatment may help reduce symptoms and long-term complications, but if left untreated, AS may progress to the following conditions:
AS causes inflammation in the spine, and if this inflammation goes untreated, the vertebrae in the spine can fuse together, impacting a person's mobility and appearance. Depending on where the spine fuses and how severe it is, AS could result in a curved back or hunchback–or worse, the inability to lift your neck. In severe cases, the vertebrae in the neck can fuse together, leading to difficulty raising the head, eating, or even breathing. When this occurs, complex spinal surgery may be necessary.
Inflammation from AS can spread to the ribs and the areas between the ribs, spine, and breastbone; this prevents the lungs from fully expanding, causing breathing problems. Chronic inflammation can also scar lung tissue, making people with AS more vulnerable to lung infections.
When spine vertebrae fuse together, as is the case with more advanced AS, the bones become weaker and more susceptible to fractures. Plus, about 50% of people with AS develop osteoporosis, which can also increase a patient's risk of spinal fractures. I tell all my patients they should get a bone mineral density test early in their disease to screen for osteoporosis.
Uveitis, or eye inflammation, is a problem that affects about 40% of people with AS. Symptoms include sensitivity to light, redness, tearing, and blurry vision. Eye drops and medication can take care of the symptoms, but if left untreated, uveitis can lead to reduced vision.
In addition to the eyes, inflammation caused by AS can spread to other organs, such as the intestines. This inflammation can lead to inflammatory bowel disease (IBD) like Crohn's disease or ulcerative colitis (UC). AS can also cause more general gastrointestinal issues including abdominal pain, bloating, gas, diarrhea, or blood in the stool.
AS can cause inflammation in the knee, hip, or shoulder joints. Chronic inflammation of these joints can lead to severe pain and damage to joint health. In the cases of acute damage and impairment to these joints, patients may require joint replacement surgery to completely replace the diseased joint.
Long term, advanced and severe cases of AS can result in amyloidosis (the buildup of abnormal protein in the gut, kidneys, and other organs). This condition, in very rare cases, can lead to life-threatening organ dysfunction.
Another rare but serious complication of long-term AS is inflammation of the heart valves and around the aorta, which affects the heart's ability to pump blood to other parts of the body. Blockages of the aorta and surrounding valves can result in blood vessel blockages or leakages, which often require surgery to repair.
It's important to consult with your doctor if you have unexplained back or hip pain and stiffness that has lasted longer than three months—this is the hallmark symptom of AS. Unfortunately, some patients come to me after the disease has progressed to the point that parts of their spinal column have fused together, making it impossible for them to bend or twist. But diagnosing and treating AS as early as possible can reduce pain, prevent complications and help improve your quality of life.
Once you've been diagnosed with AS, you should visit your rheumatologist and other specialists at least once a year to make sure your treatment is working and the disease has not advanced or led to new complications.
Was this helpful?