Spondyloarthritis, Axial Spondyloarthritis, and Ankylosing Spondylitis: What's the Difference?
Was this helpful?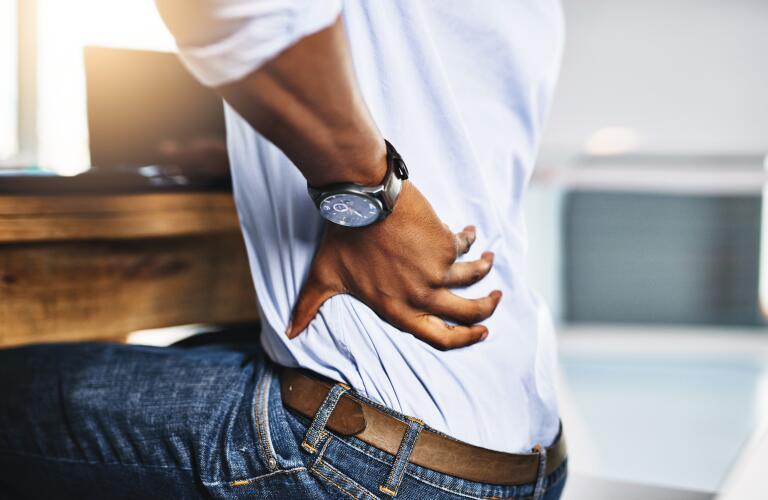 If you've been diagnosed with a type of arthritis known as spondyloarthritis, you've likely also heard of axial spondyloarthritis and ankylosing spondylitis. And if you're having a hard time keeping them straight, it's understandable. Medical terminology can be confusing, especially when you are dealing with conditions that have long names that sound similar. Let's try to help you make sense of it all.
Spondyloarthritis (SpA) refers to a group of arthritis-type diseases that affect your spine or other joints in your body. It causes inflammation that can lead to pain and stiffness, or sometimes bone damage and deformity. Occasionally, this inflammation can also cause problems with your skin, eyes, or intestines.
SpA can be differentiated based on where it occurs:
Peripheral Spondyloarthritis (pSpA): This refers to inflammation that occurs in the joints and tendons of your arms, legs, fingers, toes, and heels. It's possible to have both axSpA and pSpA.
Spondyloarthritis usually develops in people ages 17 to 45, and symptoms may come and go over time. A gene known as HLA-B27 is suspected to be involved in the development of the disease.
Axial spondyloarthritis is divided into two main categories. The classification is based on what your doctor sees on your X-ray:
Ankylosing spondylitis (AS): If you show changes in the vertebrae of your spine or your sacroiliac joints (where your spine meets your pelvis) on X-ray, you'll be diagnosed with ankylosing spondylitis. In some cases of AS, these joints may fuse together, making it hard to move and even tough to breathe. AS is also referred to as radiographic axial spondyloarthritis (radiographic axSpA).
Non-radiographic axial spondyloarthritis (non-radiographic axSpA): In contrast, if your vertebrae or sacroiliac joints do not show any damage on X-ray, you are considered to have non-radiographic axSpA.
The symptoms of non-radiographic axSpA and AS may appear quite similar. Non-radiographic axSpA can develop into AS, but this doesn't occur in every case.
Treatment for both conditions are often similar. Common therapies include:
Nonsteroidal anti-inflammatory drugs (NSAIDs): Over-the-counter NSAIDs like ibuprofen are often used to treat pain and inflammation.
Biologic medications: If NSAIDS don't provide adequate relief, biologic medications are suggested. These medications block proteins in your body that lead to inflammation. Medications that block a protein called tumor necrosis factor (TNF) may be tried first; these include infliximab (Remicade), etanercept (Enbrel), and adalimumab (Humira). If they are unsuccessful or not well tolerated, your doctor may prescribe drugs that block a protein called interleukin-17 (IL-17), like secukinumab (Cosentyx) or ixekizumab (Taltz).
Disease-modifying antirheumatic drugs (DMARDs): If you also have arthritis in your arms and legs, DMARDs like methotrexate and sulfasalazine may improve your symptoms.
Steroid injections: Injections directly into painful joints or tendons can provide relief. Steroids taken by mouth are usually not recommended.
Physical therapy and exercise: Regular exercise is important. A physical therapist can give you specific recommendations for strengthening your core and improving your posture to minimize symptoms.
Keep in mind, the severity and progression of axial spondylarthritis can differ greatly from person to person, so your doctor will look at your individual case to determine which treatments are best for you. Always talk to your doctor about any specific questions or concerns.
Was this helpful?