Talking With Your Doctor About Treatment of Alzheimer's Disease
Medically Reviewed By William C. Lloyd III, MD, FACS
Was this helpful?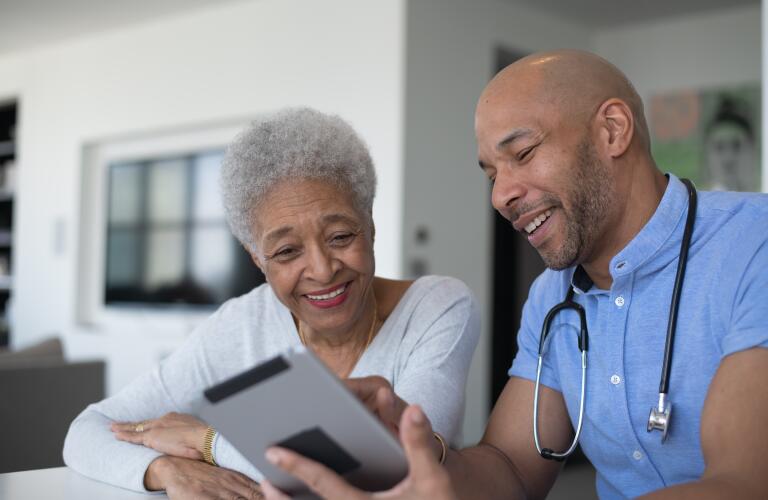 Coming up with the best treatment plan for Alzheimer's disease can be tricky. That's because it depends on many factors: age, general health, treatment goals, how severe the symptoms are, and the person's living situation. But by taking the time to talk through all the treatment options and how they may affect you or your loved one, you may be more likely to find the one that works best.
Four medicines are approved by the U.S. Food and Drug Administration to treat Alzheimer's disease:
Donepezil (Aricept)
Galantamine (Razadyne)
Memantine (Nameda)
Rivastigmine (Exelon)
Each helps maintain thinking, memory, and speaking skills. They also can help with some of the behavioral and personality changes that can occur with Alzheimer's. Doctors sometimes combine two of these medications (especially Donepezil and Memantine) in patients with moderate-to-severe Alzheimer's.
It's important to ask questions about medications and other treatments for Alzheimer's disease. There's no perfect treatment and success with treatment can vary. So not only will asking questions provide you with knowledge about your or your loved one's condition, it will also show your doctor what concerns you most.
Here are some questions that you can ask to start a meaningful conversation:
Can you explain the treatment options?
What are the benefits of each option?
How likely is it that each treatment will work?
How will we know if the treatment works?
For how long will the treatment work?
What are the side effects of each treatment option?
Can anything be done about the side effects?
Do any other options exist?
Ask the questions that you care most about first. If you don't understand the answer, ask your doctor to explain it again or differently.
Also be sure to ask questions about how the various treatments should be taken. For instance, ask:
Are there foods or drinks that should be avoided?
Are there medicines or activities that should be avoided?
Should the medicines be taken with meals or on an empty stomach?
What should be done if a dose is missed?
Take notes, bring a family member or friend to take notes, or ask your doctor to write down the key information for you.
You may also be interested in learning about treatments in clinical trials. Today, experts are studying more than 90 drugs for Alzheimer's disease. If you or your loved one would like to help advance Alzheimer's disease research, ask your doctor about taking part in a clinical trial.
Was this helpful?