How Resveratrol May Slow Alzheimer's Progression
Medically Reviewed By William C. Lloyd III, MD, FACS
Was this helpful?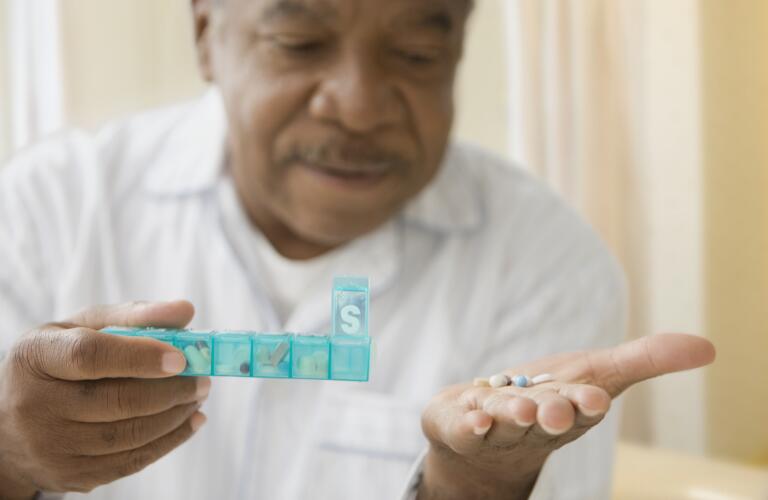 Alzheimer's disease affects about 5 million people in the United States, and that number is expected to rise dramatically over the next couple of decades. This progressive, incurable condition causes memory loss and eventually a near-complete inability to perform activities of daily living, such as bathing and dressing.
Researchers don't yet agree on what, precisely, causes Alzheimer's, and they do not yet have a cure. However, new research into the compound resveratrol shows promise for slowing the advance of this disease. Here's what you need to know about new findings on how resveratrol may slow Alzheimer's progression.
Resveratrol is a naturally occurring chemical in plants called a polyphenol. As an antioxidant, resveratrol has the ability to clear the body of unbound oxygen molecules, sometimes called "free radicals," that can damage tissues.
While you can get resveratrol from blueberries, cranberries, peanuts and dark chocolate, it may be most notably highlighted a potential health benefit of red wine. Scientists first made this observation about resveratrol after noticing a reduced rate of heart attack among people who live in the Mediterranean region and tend to consume wine daily with their meals. Because resveratrol is found in the skin of grapes, red wine often contains significant amounts of this polyphenol, which reduces inflammation in the vascular system—a key component of heart disease.
Along with natural sources, resveratrol also can be synthesized in a laboratory and is widely available as a nutritional supplement. However, talk to your doctor before taking artificial resveratrol (or any supplement), since its production is unregulated, and you may not know how much resveratrol you're actually getting.
Researchers believe Alzheimer's might be caused or influenced by short amino acid chains called "amyloids" or "beta amyloids." In a normal brain, these amyloids form and then circulate throughout the rest of the body. In Alzheimer's disease, the amyloids seem to get "stuck" in the brain, where they cause problems in nerve cell communication. Poor nerve communication causes the symptoms we recognize as Alzheimer's disease.
New research published in the journal Neurology suggests resveratrol might exert positive effects on several aspects of Alzheimer's disease, including the circulation of beta amyloids. The study followed 119 men and women with mild to moderate Alzheimer's disease as they took either a high-dose capsule of resveratrol or a placebo (sugar pill) for one year.
At the end of the 12 months, researchers found higher levels of beta amyloids circulating in the cerebrospinal fluid of those in the resveratrol group than those in the placebo group. It would be a great leap of logic to say this correlates with lower levels of amyloid plaques in the brain, and no one should interpret these results that way. However, the increase in circulating amyloids did show that resveratrol was able to cross the blood-brain barrier and influence the behavior of the amyloids in the body.
Resveratrol exhibited other positive effects, as well. Those who took the resveratrol lost more brain volume than those in the placebo group. This might sound bad, but actually it's a good sign. Alzheimer's disease can cause inflammation of the brain tissue, causing it to expand. Resveratrol seems to counteract that effect through its anti-inflammatory properties.
Furthermore, while the cognition of all study participants declined while taking resveratrol, the decline was less in the resveratrol group than in the placebo group. In effect, the resveratrol slowed the progression of some Alzheimer's symptoms in the study participants.
If you or someone you love is living with Alzheimer's, should you add red wine, dark chocolate and resveratrol supplements to your daily routine? The answer is assuredly "no."
While this study shows resveratrol's promise in slowing the progression of Alzheimer's, there are a few factors that keep it from translating into a treatment recommendation. First, the study used pharmaceutical-grade resveratrol in very high doses not available to the public. Second, no one should take extreme doses of a supplement without a doctor's supervision. It's worth noting, also, the small study sample was not large enough to statistically extrapolate across a large population.
Researchers likely will use this recent research to create new studies that examine the effects of resveratrol on larger groups of people. Meanwhile, this current study offers further hope that scientists soon will unlock the secret to curing Alzheimer's disease.
Was this helpful?