Drugs That Slow the Symptoms of Alzheimer's Disease
Was this helpful?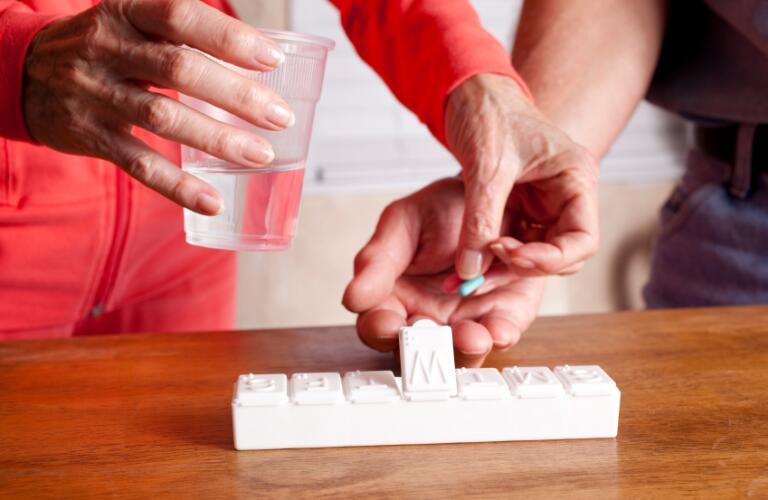 There are currently no medications that can cure Alzheimer's disease or reverse its effects. Some medications, however, can slow or delay the worsening of symptoms, such as memory loss. This can help people with Alzheimer's disease live comfortably and independently for longer than they would be able to otherwise.
The U.S. Food and Drug Administration (FDA) has approved several medications to treat Alzheimer's disease symptoms. All of these medications work by regulating brain chemicals.
Cholinesterase inhibitors are a group of drugs used to treat mild to moderate Alzheimer's disease symptoms. They can help with memory, thinking, decision making, and language problems. For about half of people taking them, the medications can delay symptoms for about 6 to 12 months.
They work by delaying the breakdown of acetylcholine, a brain chemical important to memory. The brain makes less acetylcholine the longer a person lives with Alzheimer's disease.
Cholinesterase inhibitors include:
Donepezil (Aricept)—approved for all stages of Alzheimer's disease
Galantamine (Razadyne)—approved for mild to moderate Alzheimer's disease
Rivastigmine (Exelon)—approved for mild to moderate Alzheimer's disease
Different people may respond better to one type of drug than the others. The medications may also be less effective over time.
The FDA has approved one medication, memantine (Namenda), to help with moderate to severe Alzheimer's disease symptoms.
Memantine may help delay problems with memory, attention, language, and doing simple tasks. For example, it may help a person with Alzheimer's disease be able to go to the bathroom alone for a few extra months. That can make a big difference for caregivers as well as patients.
The medication works by regulating a brain chemical called glutamate. Glutamate is important for learning and memory. With Alzheimer's disease, however, damaged brain cells can release too much glutamate. This can speed up damage to the brain.
Memantine can be taken with cholinesterase inhibitors since the medications work in different ways. Two medications combine memantine with donepezil: Aricept and Namzaric. They are FDA-approved to treat moderate to severe Alzheimer's disease symptoms.
Some doctors also prescribe high doses of vitamin E to people with Alzheimer's disease. Vitamin E is an antioxidant that may guard brain cells from damage.
Studies suggest that taking vitamin E might help people with Alzheimer's disease continue to perform everyday tasks, such as shopping and cooking. It probably does not help with memory and thinking problems. More research is needed, however.
People with Alzheimer's disease should only take vitamin E with a doctor's OK. That's because the vitamin can interfere with other drugs, including cholesterol-lowering medications.
A doctor will typically start with a low dose of medication and up the dose gradually. Higher doses may work better, but they tend to come with more side effects.
Be sure to follow the doctor's instructions exactly, and ask if you have any questions.
Was this helpful?