What to Expect With a Telehealth Appointment for Hives
Was this helpful?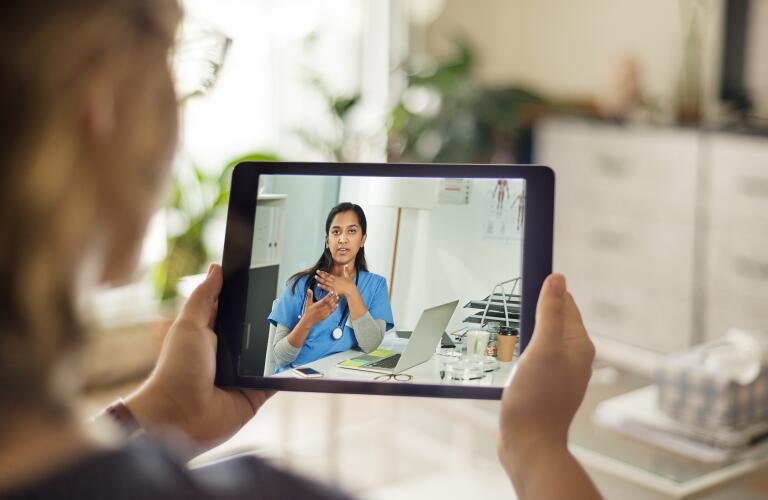 According to a recent survey, 75% of healthcare providers now offer some form of telehealth for conditions like hives (urticaria), which is characterized by irritating bumps that can last from a few days to several months or longer. Telehealth enables you to connect with your allergist digitally, via phone call, text message, email, or most commonly, video chat. Telehealth can also refer to digital tools you can use to keep track of your condition and communicate data to your doctor. If you've never had a telehealth appointment before, it can be helpful to prepare in advance and get an idea of what to expect.
Telehealth is a virtual doctor visit with a board-certified allergist, primary healthcare provider, or other member of your healthcare team. A virtual visit can usually be scheduled much sooner than an in-person visit with an allergist. Many allergists now use telehealth visits as a form of triage to gauge whether a face-to-face visit is needed. Virtual doctor visits for hives usually take place through online video and sometimes over the phone. A video chat usually requires access to a computer (and webcam), tablet, or smartphone, with an up-to-date browser and broadband Internet connection. Your provider will give you a list of requirements in advance.
Before your telehealth visit, your doctor may also send you an online form to complete or request that you send them photos of your hives so they can come to the visit well prepared. You may hear this process referred to as an interview, and it's typically brief.
During your telehealth visit, your doctor will ask you about your symptoms and work with you to identify triggers. You'll likely discuss treatment methods, and your allergist can prescribe new medications or lifestyle changes, just like an in-person appointment. Behind the scenes, your doctor may use a high-resolution webcam to take images of your hives. Your doctor may recommend you use a special app to track your hives symptoms and send that information directly to their office so they can make note of any patterns.
After your appointment, a record of your visit may be added to your overall healthcare record automatically, or it may be sent to you through email to share with your primary care provider.
Beyond virtual doctor visits, telehealth can enable patients to use integrated digital tools that make it easier to keep their doctor updated. For example, you may be able to take pictures of your hives when they occur and send them to your allergist electronically through a secure smartphone app or portal. You may also have access to apps and online tools that make it easier to track your triggers, follow your treatment plan, and share information with your provider automatically. Depending on your doctor's telehealth program, texting, emailing, and document exchange may all be new options for you to participate more fully in your care. Your doctor can refer to this information before and during your telehealth call to ensure they understand your specific situation.
While many people are interested in exploring telehealth, whether their insurance provider covers virtual visits is understandably a deciding factor. Almost 90% of those surveyed in one study said they'd use telehealth if it were covered. Currently, Medicare will cover telehealth visits just like in-person visits, but state Medicaid programs and private insurers vary. Before your appointment, confirm your coverage with your insurance company. If you don't have coverage, it may still be worth asking your provider about out-of-pocket pricing. It tends to be much lower than the cost of in-person appointments, and some providers offer telehealth for a relatively affordable flat fee.
If you choose to try telehealth, find a private, quiet space for your appointment. Download any specific applications you'll need in advance, make sure your devices are charged and connected, and write down or type up any questions you have for your doctor. Leave room to take notes during the visit and capture next steps.
Was this helpful?