The Connection Between Stress and Hives
Was this helpful?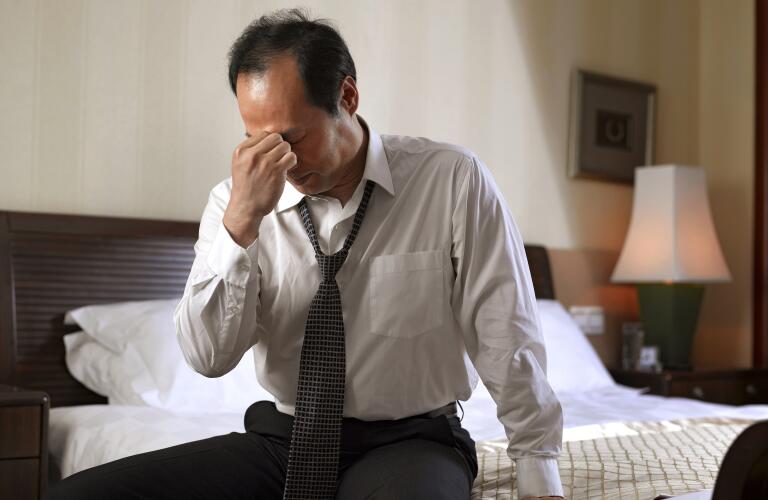 Have you ever broken out in a splotchy rash, with a series of raised red patches or welts on your skin? If so, then you have firsthand experience with a skin condition known as urticaria, or hives. When you press one of the red welts, it may briefly turn white in the center. Hives can appear anywhere on the body, but wherever they show up, they make you itch. And sometimes, the itch can be almost overwhelming. People who experience this condition for weeks or months have what experts call chronic urticaria, or chronic hives. If you're stressed out and white-knuckling it through your day, it's possible your stress levels may be a factor in triggering those hives.
Urticaria can be broken down into two main kinds: acute and chronic. Acute hives can develop when you're exposed to an allergen or trigger. An acute case of hives shows up suddenly, often in response to a certain food, an infection, an insect sting, a particular medication, exposure to heat or cold, or–you guessed it–emotions like stress. They last for a few hours and usually disappear within a day. Meanwhile, chronic hives are hives that stick around for a while–a long while in many cases. They might last for six weeks or recur regularly over the course of a year or so.
The good news: there are lots of known causes of acute hives, and your dermatologist or allergist can probably help you narrow down the suspects to find the likely cause of your case. Here's the bad news: it's really, really hard to pinpoint the cause of chronic hives. Some cases do seem to be linked to autoimmune conditions, like thyroid or liver disease, or in a few cases, cancer. But the vast majority of cases of chronic hives are what's known as chronic spontaneous urticaria. Unfortunately, people with chronic spontaneous urticaria aren't able to identify a specific trigger or cause. However, some research does show that stress can play a role in chronic hives.
We experience stress when we're presented with what we perceive to be a threat. And it's not just an emotion: stress has physical effects on the body, from increasing sweat production to elevating your heart rate. For some people, hives are a physical manifestation of stress, although researchers are still working to fully understand this link. One 2005 study found that patients with chronic hives had significantly more stressful life events, more severe insomnia, less family support, and more negative coping tendencies than people without hives. And researchers in 2012 found people with allergic disorders, like acute hives, can experience more severe symptoms when they're stressed out.
If you're feeling discouraged about your hives, take a moment and consider this: reducing your stress levels certainly won't hurt you, and it might actually help. Start by identifying the source of your stress. Does your job make you feel anxious? Are tensions high at home? Do you feel like you never get enough downtime to recover from the stress of your daily life? Once you can acknowledge the most likely culprit, you can begin strategizing some possible remedies.
If you want to work on reducing your stress levels, you have lots of options. You can address the specific cause of your stress–your job or your demanding boss, a sick spouse, or an overpacked schedule. But you can also try a few of these additional stress-reduction ideas:
Assess your sleep habits. Are you getting enough sleep? The itch factor can make it hard to sleep well. But a lack of adequate sleep can put additional stress on your body and brain. If you're not getting seven or eight hours of sleep each night, take a good look at your sleep habits to see if you could make some changes. (Hint: you might need to start going to bed a little earlier or put your electronic devices away sooner.) You might also talk to your doctor about making sure you're taking the right medication to keep the itch under control so you can sleep better.

Try mindfulness meditation. Mindfulness meditation is a way to stay present in the moment, without getting distracted by negative thoughts or fears. Take a few minutes to sit quietly. Then ask yourself how you're feeling. Notice the way the air feels on your skin, or the way your legs touch each other. If your mind wanders, just gently push those thoughts to the side for a while and focus on the moment.

Get some exercise. Exercise is a well-known stress buster. As long as you know that your hives are not exercise-induced–that is, the welts don't develop right after you start jogging or jumping–you can turn to exercise to decrease your stress levels.

These strategies might make a positive difference in your hives if you suspect your stress level is causing ors exacerbating them. You might notice an improvement, and if you do, keep it up! If not, talk to your doctor about other potential causes as well as effective ways to keep hives under control. And even if your hives aren't directly related to stress, lowering stress levels will benefit your body and your health overall.
Was this helpful?