Recognizing and Treating Chronic Hives in People of Color
Was this helpful?
Hives may look different according to your skin complexion. For People of Color, hives may range in appearance; they may be red, pink, brown, or the same color as your skin. Finding a board-certified dermatologist is important to receive an accurate diagnosis and proper treatment.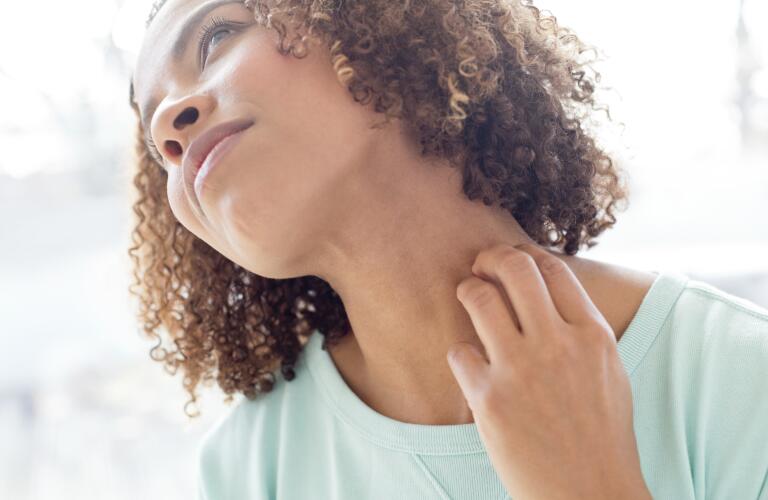 Hives look different depending on your skin complexion. Getting a proper diagnosis and finding the right treatment can help you manage symptoms and feel better. However, People of Color may find it harder to receive a diagnosis or correctly identify hives because of healthcare disparities, resulting in delays in treatment. Here's what you need to know.
Hives, also called urticaria, are a type of skin reaction. Symptoms of hives may include:
raised bumps or welts, often in clusters
welts of differing shapes and sizes
individual welts that appear and disappear over a period of time
itching, burning, or stinging skin
painful swelling deep in the skin of the lips, mouth, cheeks, or eyelids called angioedema
Hives that persist or recur for greater than six weeks are considered chronic hives. Though hives can sometimes be triggered by things such as medications or extreme temperatures, the cause of chronic hives is often unknown.
Hives can look different for each person. They can be small or large, appear as a circle or a squiggly line, and may vary in color.
Because of these variations, hives can be tricky to identify. Although hives are often described as red or pink raised welts, that is how they usually appear on light skin. On People of Color, hives may be deep red, brown, or the same color as your natural complexion. Also, hives can be lighter or darker than the skin surrounding them.
It is important to mention and consider the existing dermatologic healthcare disparities when it comes to treating skin conditions. A 2020 study suggests physicians may lack familiarity with how skin diseases present on different skin tones, in part because their medical training does not include educational materials or images that involve skin of color. This may be one reason People of Color with skin conditions are more likely to receive misdiagnoses or experience delays in diagnosis.
Chronic hives can affect your quality of life, with symptoms that can last for years. If you are a Person of Color and have (or think you have) chronic hives, keep the following in mind when seeking a diagnosis:
Find a specialist: The advanced training of a board-certified dermatologist or allergist makes it more likely you'll get an accurate diagnosis. You can even search for a specialist with expertise in treating hives on different skin complexions through the Skin of Color Society website. You can call the doctor's office ahead of time and ask questions to ensure you feel comfortable with the doctor you're seeing.
Take pictures: Because hives come and go, the way your skin appears during an appointment may not fully reflect the extent of your hives. Pictures can help the doctor see what your skin looks like during a flare-up.
Keep a journal: Write down when your hives appear and make sure to include specific details about possible environmental factors or food allergies that might be causing them. This will provide a record of how long your condition has been affecting you and may help your doctor pinpoint specific triggers.
There are several treatments to ease chronic hives. After ruling out any identifiable allergic reaction or underlying medical condition that may be causing your hives, your doctor may suggest one of the following medications:
Antihistamines: These drugs reduce itching and swelling. Examples include loratadine (Claritin), famotidine (Pepcid), and cetirizine (Zyrtec). The dosage may increase for severe hives. Stronger antihistamines may also be prescribed if needed.
Drugs that target the immune system: Chronic hives may be related to an overactive immune system response. Cyclosporine (Sandimmune) or omalizumab (Xolair) can tame this response.
Steroids: A short course of steroids, such as prednisone, may be given for severe hives or to control flare-ups of chronic hives.
Your doctor will take a gradual approach to treat your chronic hives, starting with a milder medication and adjusting treatment according to how you respond. It is essential to know the best way to care for your skin and manage your hives. Talk with your doctor about specific questions you may have, and keep in mind there are a variety of treatment options at your disposal.
Was this helpful?