PHYSICIAN VOICES

Expert Insights on Treating Chronic Hives

Was this helpful?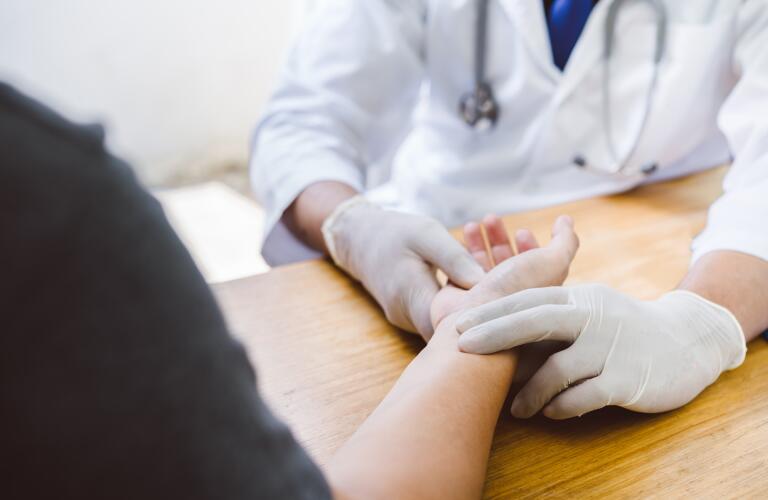 Many people experience hives after eating something they're allergic to or during stressful times. But some people also get chronic hives, which last longer than six weeks.
Dr. Farheen Mirza, an allergist with Northwestern Medicine Central DuPage Hospital, shares what she wants patients to know about living with chronic hives.
A: For acute hives, meaning hives that last less than six weeks, there are a lot of different things that can trigger an outbreak. It could be a new medication, a new food, a stressful situation, an infection, and even extreme heat or cold. But more than 90% of the time, we can't find an external trigger for chronic hives. In fact, the most commonly diagnosed type of chronic hives is called chronic spontaneous urticaria. Urticaria is the clinical term for hives, and spontaneous means we aren't able to identify a specific cause or trigger. Chronic hives will last more than six weeks, but they'll come and go and even move around during that time. Unfortunately, we are still researching why this happens and what causes it. However, we do have many effective treatment options, even though we're still not sure of the root of the problem.
A: When it comes to treating hives, every patient is different. I don't recommend the same things for everyone–my advice is tailored to fit the individual's needs. But in general, I start with simpler over-the-counter medications and then if needed, increase to prescription drugs. At first, we'll treat chronic hives like we'd treat acute hives. I'll start patients on an over-the-counter antihistamine medication, like fexofenadine (Allegra) or loratadine (Claritin) to be taken once a day. If that's not enough to relieve your hives, I'll recommend patients take higher doses of the antihistamine under the guidance of a doctor.
If that's not enough, I might recommend taking a medication like ranitidine (Zantac), which is typically used to treat heartburn. I might also add on a more potent antihistamine, like diphenhydramine (Benadryl) or a medication that's usually taken for asthma, montelukast (Singulair). Some people, though, can't get their hives under control with these oral medications. In these cases, I turn to a newer drug, omalizumab (Xolair). It's relatively safe and its efficacy has been proven in several studies. I see firsthand how it helps patients for whom nothing else worked. Omalizumab is a monthly injection, though, and some of my patients are leery of this. However, many of them decide it's worth it to get their hives cleared up.
A: That answer is different for every medication. I like to give antihistamines about a month of daily use to see if they're really working or not. The same goes for other oral medications I might prescribe for chronic hives. With the omalizumab injection, people can see results in one week to a few months. Patients typically continue to receive the monthly injections for a while and sometimes I'll recommend they take a break if it's been a long time since their last hives outbreak. In many cases, the hives return, but I've been able to take a few people off the medication indefinitely.
A: Chronic hives are different for everyone, but I think it's important to set expectations off the bat. I tell my patients to keep in mind it's going to take some time. The hives probably won't go away overnight and it might be a few weeks until you can see results. Some people respond immediately while others have to try everything out there. I do think patients should stay optimistic, though, because it's very likely we will get your hives under control so they won't impact your life anymore. So many of my patients can't concentrate on work or school because their hives are everywhere and incredibly itchy. It's embarrassing, distracting, and can affect your self-confidence, as well. I know how important it is to my patients that their chronic hives clear up as soon as possible, so we work together to do just that.
A: When it comes to your daily life, I think it's important to take care of your skin. Avoid products with fragrances and too many chemicals. Switch to fragrance-free laundry detergent and cleaning products. And try your best to manage stress, which can be a big trigger for hives. People might get hives as a result of stress, and then get even more stressed out from their hives! I advise patients to try not to get frustrated, because it is a very treatable condition. It might take some trial and error, but it's likely we will find something that works to relieve your chronic hives.
Was this helpful?