Laser and Light Treatment for Acne
Was this helpful?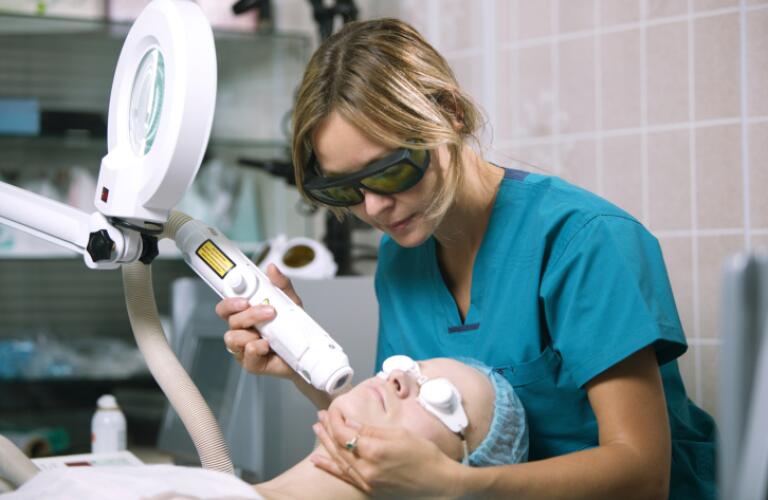 Some dermatologists offer laser and light treatment for acne and acne scars. Whether these treatments are truly helpful remains uncertain though. The American Academy of Dermatology Association (ADA) doesn't approve or disapprove of these treatments, but the organization does state on its site that they welcome more studies to prove their effectiveness. The ADA also points out that these treatments do not remove scars altogether, but they could make the scars less noticeable.
Blue light and red lights can be used to treat pimples. The light therapy seems to be effective on all skin types, although results vary from person to person. These lights don't have any direct effect on blackheads or whiteheads, nor on acne cysts or nodules. Instead, the light kills bacteria on the skin that may cause pimples. For best results, repeat treatments are necessary and, although its success can be long-lasting, follow-up treatments once or twice a year are a common recommendation.
Your dermatologist may offer this treatment in the office. You wear goggles to shield your eyes from the light. The light is then aimed at your face for about 15 to 30 minutes. Your dermatologist will advise you how many treatments you will need.
There are also over-the-counter products for light therapy, such as Neutrogena's light therapy acne spot treatment. These products allow you to perform the treatments at home. Read the instructions closely because different devices have different recommendations. One may say to use it for 2 minutes three times a day, while another may be for 30 minutes two times a day.
Light and laser therapies for the skin are considered safe but, as with all treatments, there is the potential for side effects. They include:
Red skin

Swelling

Stinging or burning sensation

Burns
Photodynamic therapy (PDT) is a light therapy combined with a photosensitizing agent, such as aminolevulinic acid (ALA) and/or methyl aminolevulinate (MAL). Performed in a doctor's office or clinic, the provider applies ALA or MAL to your skin, lets the product sit from several minutes to a few hours, then treats the area with a laser device or a visible light-emitting device (producing blue or red light). (LASER is an acronym for light amplification by stimulated emission of radiation. Lasers emit a single light wavelength-visible or invisible. There are many types of lasers on the market today.)
Although there aren't many studies that prove how effective PDT is, a few small studies report that patients see improvement. In one small study, patients experienced 50% fewer acne spots after four weeks of using this treatment. After three months, they reported a 72% decrease in spots. Unlike just light therapy, photodynamic therapy may help treat acne cysts, as well as pimples. It appears that photodynamic therapy is better at treating acne than just light alone.
If you try this therapy, first tell your dermatologist about any medications you are taking. If you are taking isotretinoin (previously sold as brand name Accutane) or have taken it within the previous 6 to 12 months, you may have to wait before starting light therapy.
There are various types of laser therapy that dermatologists may use to treat acne and acne scars.
Ablative lasers remove damaged tissue. Another name for it is skin resurfacing. The dermatologist uses a laser to remove the thin upper layers of skin. Ablative lasers are more aggressive on the skin. They can cause more irritation and require a longer healing time, but patients often have longer-lasting results than nonablative laser therapy.

Nonablative lasers conduct heat to the skin to stimulate collagen production. This may lessen the appearance of acne scars. Recovery time is generally minimal, although the treatment may cause some skin redness.

Photopneumatic therapy combines a vacuum with a pulsed broadband light laser. The combination is believed to help unplug clogged pores and reduce inflammation. The laser kills the bacteria and the vacuum removes oil and loose skin cells.
Light or laser therapy is often used in conjunction with other topical treatments. However, discussing the specific treatments with your doctor helps you avoid complications or serious side effects. If you have a history of herpes, it may recur with laser therapy. To avoid this, your doctor may prescribe an antiviral medication for you during and for a while after the treatment.
Laser therapy can be painful, so your doctor may prescribe a topical anesthetic to numb your skin before treatment.
Your doctor or skin care specialist will explain to you what to do and what to avoid before and after light/laser treatment. Some of the most common recommendations include skin care rules beginning at least two weeks before your treatment:
Don't sunbathe or use a tanning bed.

Don't wax or use chemical peels on the target area.

Don't receive any collagen injections in or around the target area.
Other recommendations include:

Don't apply perfume, scented products, or deodorant to the affected area before the procedure.

Prior and after treatment, avoid taking any over-the-counter medications, such as aspirin or natural supplements that may increase bleeding time. If you take prescription medications, particularly medications like warfarin, tell your doctor before starting treatment.
After the procedure, your doctor will likely tell you:

Apply cool, moist cloths to the skin if stinging.

Do not apply makeup or lotion for at least 24 hours after the treatment. Ask your doctor when it is OK for you to apply the products again.

Except for circumstances when you should not use lotion or moisturizer, beginning right after each session, apply either lotion or moisturizer twice a day until at least three months following your last treatment session.
Watch for signs of infection following treatment sessions. These include increasing redness of the skin, pain, discharge from the skin, and fever.
Was this helpful?