Hormonal Acne Explained
Was this helpful?
Hormonal acne involves acne occurring into adulthood. It results from hormone fluctuation, which causes sebum production, inflammation, and breakouts. Hormonal acne includes blackheads, whiteheads, cystic acne, and more. Acne is a common condition. While it is most prevalent in teenagers and young adults, people can continue to experience acne into their 40s and 50s.
This article will discuss hormonal acne and its causes, symptoms, and treatment.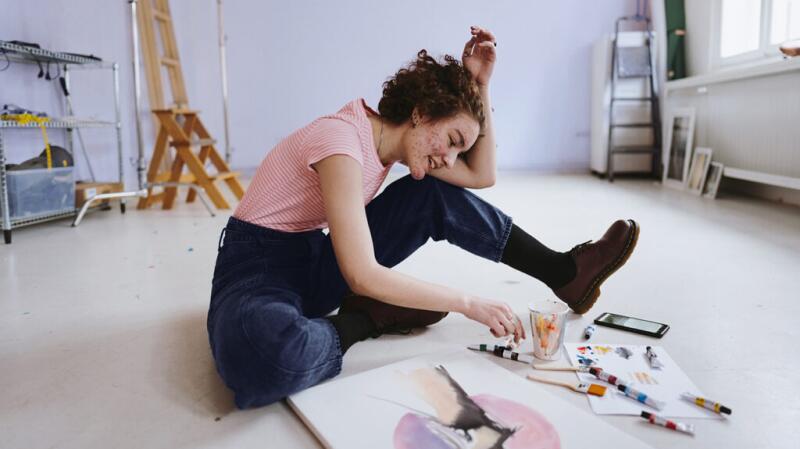 The phrase "hormonal acne" generally refers to adulthood acne resulting from hormone fluctuation. However, hormones influence all types of acne.
Acne results from an overproduction of sebum in the skin. Sebum is an oily substance that can collect in pores and trap dead skin cells and bacteria. This substance blocks the pores and causes inflammation, leading to acne breakouts.
Fluctuations in hormone levels within the body can cause hormonal acne. Androgens, which are the hormones in males that include testosterone and dihydrotestosterone, promote sebum production and lead to breakouts. Changes in estrogen levels during menstrual cycles in females may also cause or worsen acne.
Some other possible causes of hormonal acne include: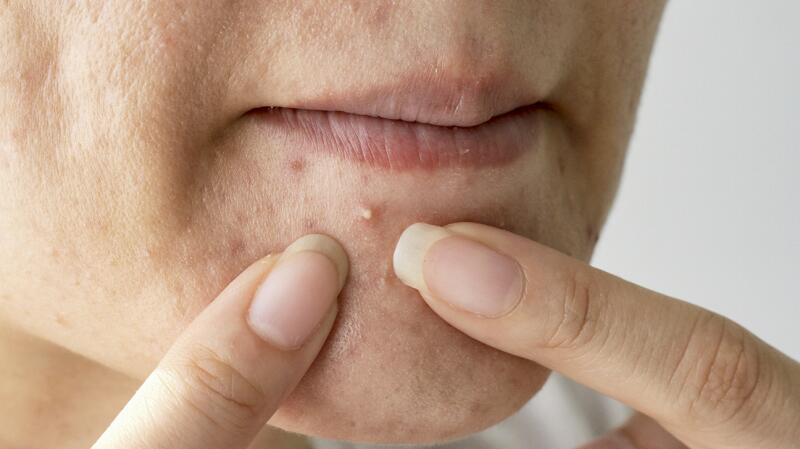 Whiteheads are raised and can be either flesh-colored or white.
ARTFULLY PHOTOGRAPHER/Shutterstock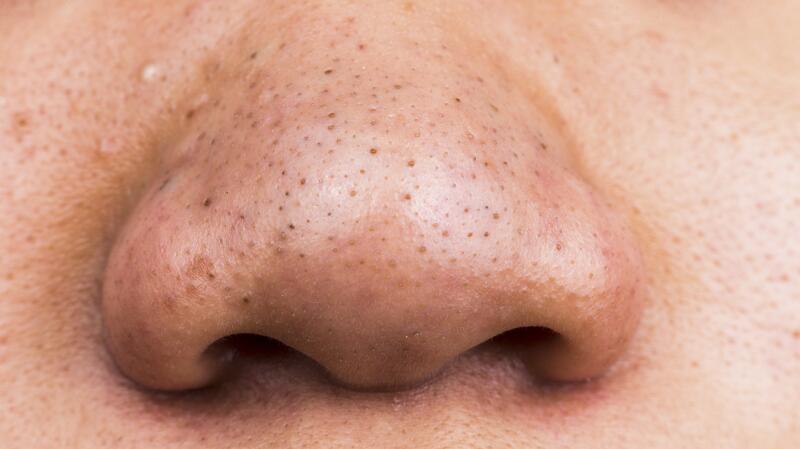 Blackheads form when dead skin cells and oil collect in a pore and react with oxygen.
Cystic acne reaches deep into the skin and can become swollen and painful.
TLaoPhotography/Shutterstock
Acne can produce several types of lesions, depending on the material blocking your pores.
Dermatologists typically diagnose hormonal acne through a visual examination. Although, fluid cultures or tissue biopsies may be necessary to rule out other conditions. They may also ask about your family history, menstrual cycles, and medications.
Talk with your doctor if a lesion does not heal, begins draining, or grows.
Depending on the severity, treatments for hormonal acne can vary. Your dermatologist can make recommendations based on your particular situation.
Some topical treatments are available without a prescription, while others require physician approval. Topical treatments may include:
Some products are available as combinations of the above. You may be able to use two or more products together, but be sure to follow your doctor's recommendations.
Some acne medications are available in oral form. These can include:
People seeking to manage hormonal acne may consider natural products. Please note that the data on these products, such as tea tree oil or vitamin supplements, are limited and inconsistent. Talk with your doctor before starting any at-home treatments or supplement regimen.
While hormonal acne may not be entirely preventable, there are things you can do to minimize breakouts. Measures that decrease oily sebum on the skin may be effective in maintaining clearer skin. It is also important to maintain your skin's health with moisturizing and a gentle cleansing regimen.
A balanced diet with minimal oils and plenty of vitamin-rich fruits and vegetables may help. There is some controversy about how this affects acne, but a nutritious diet benefits the entire body.
Cosmetics, moisturizers, and sunscreens labeled "non-comedogenic" may help manage acne. The term "non-comedogenic" means the ingredients in these products will usually not clog your pores. Using gentle cleansers instead of harsh facial scrubs can also help you avoid inflammation.
According to the American Academy of Dermatology Association, stress can contribute to breakouts by stimulating hormone production. Taking steps to relieve stress and getting adequate rest may help manage your acne.
The outlook for people with hormonal acne is usually good. Managing breakouts, diminishing inflammation, and eliminating scarring and dark spots are possible with proper treatment. Contact your dermatologist for a more comprehensive care plan if over-the-counter (OTC) treatments are ineffective for you.
Discuss any natural supplements you wish to use with your doctor.
These are a few other commonly asked questions about hormonal acne. Amanda Caldwell, MSN, APRN-C reviewed the answers.
When should I call my doctor about hormonal acne?
Talk with your doctor if your acne is persistent, draining, or very painful. These symptoms may indicate an infection or another underlying condition.
Will my hormonal acne go away on its own?
Because your hormones fluctuate throughout your life, mild acne may resolve on its own. More serious cases of acne may require medical treatment.
While acne itself is not contagious, some bacteria that contribute to it may be infectious.
Hormonal acne occurs when fluctuations in hormone levels increase sebum production, clogging your pores and causing inflammation. People with hormonal acne may experience whiteheads, blackheads, cystic acne, or nodules.
Treatments for hormonal acne may include OTC or prescription medications. These medications can come in oral or topical form. With proper treatment, many cases of hormonal acne are manageable.
Talk with your dermatologist if you experience severe or persistent acne. They can help you determine possible causes and potential treatments.
Was this helpful?