Benefits and Risks of ACL Surgery
Was this helpful?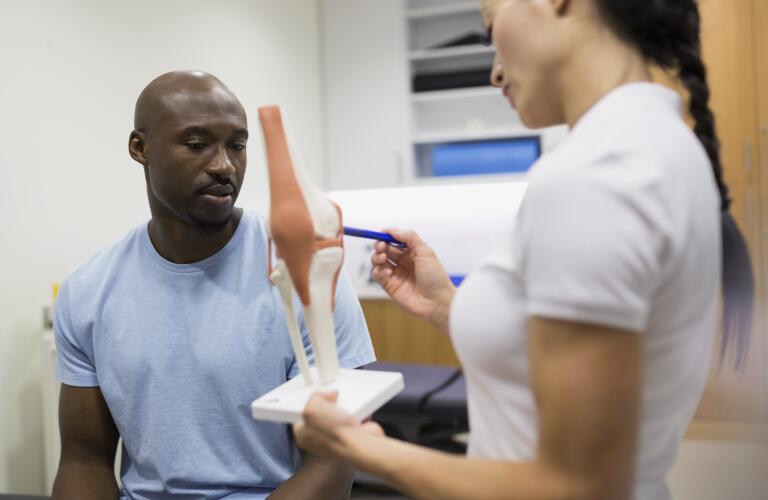 Deciding whether or not to have surgery isn't always easy. For ACL (anterior cruciate ligament) surgery, the benefits usually outweigh the risks. Your doctor can help you decide what to do. To prepare you for the decision-making process with your doctor, here are some factors to consider when surgery is an option for ACL injury treatment.
ACL surgery reconstruction involves replacing the damaged tendon with a healthy one. This offers the best chance of returning to normal knee function. It usually allows people to return to sports and other physical activities that require a stable knee. Without surgery, there is a high risk of developing future damage in the knee. This may make more extensive knee surgery necessary.
ACL surgery also has about an 80% success rate. Most people who have the surgery enjoy long-term knee health. However, about 20% may need future surgery on the knee. This is more likely in younger people and those who do not carefully follow postoperative instructions. Using a cadaver graft instead of one from your own body also increases the risk of needing another surgery.
As with any surgery, ACL surgery has risks. Problems can develop during the surgery or recovery. Some problems can even occur after the full ACL surgery recovery time of about 4 to 6 months or longer. Potential complications include:
Allograft risks including transmission of infections. Allografts are tendons that come from a cadaver donor. There is a higher risk of bacterial infections and infections with HIV and hepatitis C with allografts. Allografts may also have a higher failure rate, but more research is necessary.

Growth plate injury, which is a risk for children whose growth plates (at the ends of long bones like the leg bones) have not closed. This can lead to growth problems. It may be necessary to delay surgery to allow growth plates to close.

Knee cap pain including pain behind the kneecap and pain when kneeling. This is most common with a patellar tendon graft—a graft using a tendon that attaches the shin and kneecap. Using a patellar tendon graft also increases the risk of kneecap fracture due to weakening of the harvest site on the kneecap. There is a slightly increased risk of knee stiffness with this graft as well.

Instability, which can be a result of graft stretching or a rupture of the graft

Stiffness, which can lead to loss of full motion in the knee after surgery

Surgical risks including bleeding, blood clots, and infection of the surgical site
ACL surgery pain is a reality no matter what type of procedure or graft you have. However, the amount of pain you experience can vary. Using an autograft—a tendon from your own body—is more painful because you have an extra surgical wound. But the choice of tendon can make a difference. Using a hamstring tendon tends to result in a smaller incision, less pain, and a faster recovery than taking a kneecap tendon. There are also fewer problems with kneecap pain and postoperative knee stiffness with a hamstring tendon.
Another reality of ACL surgery is numbness in the area of the incision. This may be temporary or permanent.
Despite these potential problems, most ACL surgeries are successful. Closely following your doctor's instructions can help prevent complications. This includes attending all rehabilitation and physical therapy appointments. You also need to heed advice about adding activities. Doing too much, too soon can set you back or lead to graft failure. Before you decide on surgery, make sure your doctor explains everything involved in your recovery. Then, commit to being the model patient.
Was this helpful?