Medications That Cause Heartburn
Was this helpful?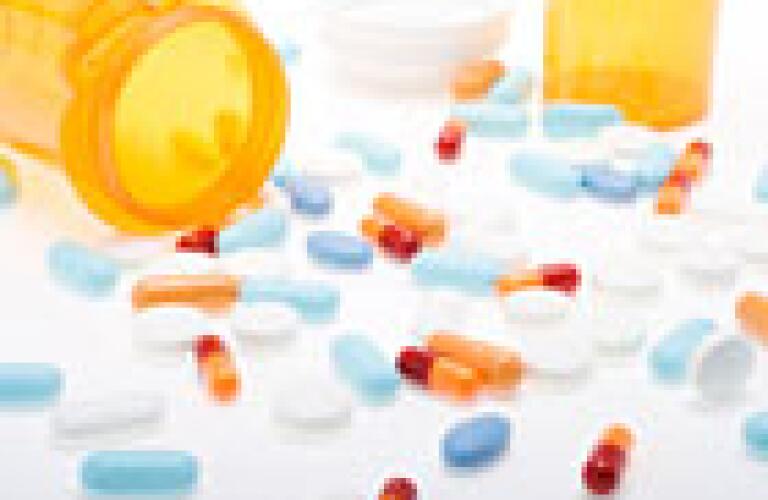 It's not just spicy meals that can cause heartburn. Medicine you take for other health conditions could be giving you the telltale chest burning, too.
Some drugs cause stomach irritation that leads to heartburn. Others may cause the lower esophageal sphincter (LES) muscle to relax which can allow food and acid from your stomach flow back up into your esophagus.
Here are six types of drugs that often lead to heartburn.
NSAIDs is the short name for non-steroidal anti-inflammatory drugs. They are common over-the-counter (OTC) and prescription drugs that treat pain and swelling. Aspirin and ibuprofen are two examples. The most common side effect of NSAIDs is heartburn.
Though these drugs help ease discomfort, they also cause stomach irritation. That's what leads to heartburn. In some cases, NSAIDs can irritate the stomach enough to cause ulcers and bleeding.
You can reduce heartburn from NSAIDs by taking them with food. Taking them with an OTC antacid also can help. Don't take NSAIDs with alcohol. If you have severe heartburn, stomach, pain, or blood in your stool, stop taking the NSAID and call your doctor.
These drugs control high blood pressure and irregular heartbeats. They work by relaxing smooth muscles around blood vessels. Since the LES is made up of smooth muscle, calcium channel blockers often relax it, leading to heartburn. If you take one of these medicines and have frequent heartburn, don't stop taking it, but let your doctor know. You may be able to switch to another drug.
An asthma attack can make heartburn worse by forcing open the LES. Some asthma drugs, especially theophylline, can also make heartburn worse. The problem goes both ways though: Heartburn itself also can make asthma symptoms worse. Talk to your doctor about treating your heartburn and your asthma with medicines that don't cause these problems.
These medicines relieve chest pain (angina) because they open up blood vessels that supply the heart. Nitroglycerin is an example. Nitrates are a common cause of heartburn. Like many other drugs that lead to heartburn, they relax the LES. In fact, nitrates are used to treat achalasia, a condition in which the LES is too tight.
This is another class of drugs that works by relaxing smooth muscles in the body. Again, that includes the LES. Doctors prescribe alpha blockers to treat high blood pressure. In men, they also help relieve urinary obstruction caused by an enlarged prostate.
These are erectile dysfunction drugs. They can help men get better erections by relaxing smooth muscles to open up blood vessels. They also relax the LES. Some recent research suggests that these drugs may also slow down contractions in the esophagus that are needed to get food down to your stomach. That may lead to heartburn, too.
Other medications may cause heartburn, too. They include antidepressants, bisphosphonates (used to treat osteoporosis), and anticholinergics (prescribed for conditions as varied as COPD and urinary incontinence).
If you have heartburn two or more times a week, talk to your doctor to find out what's causing it. Go over all your medicines, including all prescription and OTC drugs. Heartburn relief might be as simple as making a medication change.
Medications are a common cause of heartburn.

Some medications cause heartburn by irritating the stomach. Others cause it by relaxing the LES.

Talk to your doctor if you have heartburn two or more days a week to see if it's a side effect of any medication you're taking.
Was this helpful?