US Medical Schools Ranked by Diversity
Was this helpful?
Minority representation in medical schools nationwide still does not reflect the general population, but trends are heading in the right direction.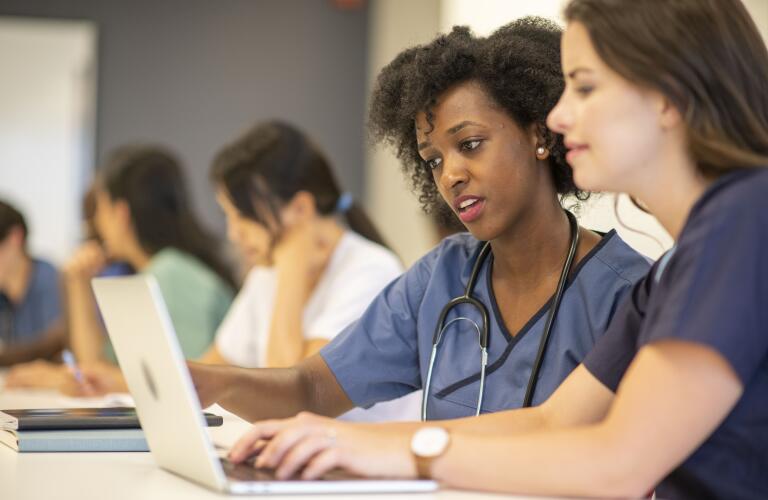 It has been a goal of medical schools for some time to recruit a more diverse body of students. The health inequities on display during the COVID pandemic have brought this need to light more than ever before.
A recent study led by researchers at Penn Medicine found that patients who share the same ethnic or racial background as their physician were more likely to give maximum patient satisfaction ratings to their doctors. These findings underscore what is already known: we need a more diverse physician workforce.
A 2019 report published by JAMA Network Open acknowledges that the absolute numbers of Black, Hispanic, and American Indian students in medical schools have increased in recent years. However, students from those groups still represent a percentage of total med school students well below their age-matched peers in the US population and the makeup of the patients they will treat upon graduation.
The medical schools with the most diverse student bodies represent a geographically diverse set of institutions. However, despite the efforts by the schools at the top of the list to enroll greater numbers of students from under-represented groups, minority representation in medical schools nationwide still doesn't reflect the general population.
In compiling its list of Most Diverse Medical Schools, U.S. News & World Report worked with the Robert Graham Center of the American Academy of Family Physicians to determine the fall 2021 enrollment of minority students at 125 schools and analyze those numbers as percentages of state and national race-ethnic group proportions.
The methodology for these diversity rankings focused on two indicators. Total medical school enrollment of under-represented minorities (URMs) accounted for 67 percent of the ranking. A greater percentage of URM students meant a higher score.
Accounting for 33 percent of the ranking was the ratio of a school's URM students compared with state and national numbers. For public institutions, the URM enrollment was compared with the percentage of age-matched URM counterparts in that state. Every private medical school's URM enrollment was compared with national URM figures.
The state and national figures were based on 2020 U.S. Census Bureau data that focused on the percent of individuals who were 25 to 30 years old. The higher the ratio of a school's URM enrollment to the state or national percentages, the higher score it received.
The following 10 institutions were ranked as the most diverse medical schools in the U.S. The rankings are accompanied by the percent of URM students enrolled in the fall of 2020.
| | | | |
| --- | --- | --- | --- |
| Rank | Medical School | Location | Percent Underrepresented Minority Enrollment |
| 1 | Howard University | Washington, DC | 76.8% |
| 2 | Florida International University (Wertheim) | Miami, FL | 43.2% |
| 3 | University of California, Davis | Sacramento, CA | 40.0% |
| 4 | University of Vermont (Larner) | Burlington, VT | 14.1% |
| 5 | University of New Mexico | Albuquerque, NM | 38.9% |
| 6 (tie) | Kaiser Permanente | Pasadena, CA | 34.0% |
| 6 (tie) | Temple University (Katz) | Philadelphia, PA | 27.1% |
| 6 (tie) | University of Miami (Miller) | Miami, FL | 31.0% |
| 9 (tie) | East Carolina University (Brody) | Greenville, NC | 30.6% |
| 9 (tie) | University of Chicago (Pritzker) | Chicago, IL | 30.3% |
It is worth noting that while a school such as the University of Vermont had a relatively low URM enrollment, it still represented a higher ratio of URM students to age-related peers in its state compared with many other schools.
Applications to medical school have soared since the onset of the pandemic. According to the Association of American Medical Colleges (AAMC), medical school applicants rose by 17.8% for the 2021-22 school year. Contrast this with previous years, when the total number of applicants typically only varies 2-3% per year.
Historical increases in applicants from underrepresented minorities are leading the charge. Among the 22,000-plus students who enrolled in medical school in Fall of 2021, students identifying as Black or African American rose by 21% from the year prior, followed by increases of 8.3% among Asian students and 7.1% among those of Hispanic, Latino or Spanish origin.
Notably, women made up 53.7% of students matriculating to medical school during the 2019-2020 cycle, according to the AMA.
Was this helpful?