Prednisone - Pharmacology TABLET
Pharmacology refers to the chemical makeup and behavior of PREDNISONE (tablet).
Prednisone is a glucocorticoid. Glucocorticoids are adrenocortical steroids, both naturally occurring and synthetic, which are readily absorbed from the gastrointestinal tract. The molecular formula for prednisone is C21H26O5. Chemically, it is 17,21-dihydroxypregna-1,4-diene-3,11,20-trione and has the following structural formula: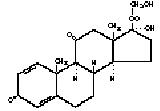 Molecular weight: 358.44
Prednisone is a white to practically white, odorless, crystalline powder. It melts at about 230°C with some decomposition. Prednisone is very slightly soluble in water; slightly soluble in alcohol, in chloroform, in dioxane, and in methanol.
Each tablet, for oral administration, contains 1 mg of prednisone.
Inactive Ingredients: Lactose, Magnesium Stearate, Pregelatinized Starch, Sodium Lauryl Sulfate and Sodium Starch Glycolate.
Naturally occurring glucocorticoids (hydrocortisone and cortisone), which also have salt-retaining properties, are used as replacement therapy in adrenocortical deficiency states. Their synthetic analogs, such as prednisone, are primarily used for their potent anti-inflammatory effects in disorders of many organ systems.
Glucocorticoids, cause profound and varied metabolic effects. In addition, they modify the body's immune responses to diverse stimuli.
This drug label information is as submitted to the Food and Drug Administration (FDA) and is intended for informational purposes only. If you think you may have a medical emergency, immediately call your doctor or dial 911. You are encouraged to report negative side effects of prescription drugs to the FDA. Visit the FDA MedWatch website or call 1-800-FDA-1088.
Search Drugs and Medication
Or Browse by Name