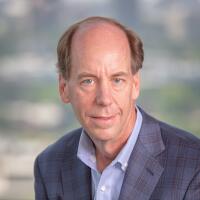 Rob Draughon
Chief Executive Officer, Healthgrades Marketplace
Rob Draughon is an accomplished executive who serves as CEO of Healthgrades Marketplace. Previously, he served as Healthgrades CEO since 2018 and President and/or CFO since 2012.
Prior to Healthgrades, Rob was at Press Ganey, a recognized leader in health care performance improvement, where he joined as Chief Financial Officer in 2009 and was named President and CFO in 2010. Rob began his career in healthcare when he joined WebMD in 1998, where he was one of their first employees. At WebMD Rob led all acquisitions in his role as CFO and Head of Business Development.
Rob is married, has three children, and lives with his wife, Donna in Atlanta, Georgia. He graduated from Wake Forest University with a BA in economics and from the Fuqua School of Business at Duke University with a master's in business administration.