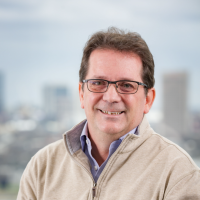 Dr. Brad Bowman
Chief Medical Officer, Healthgrades
Dr. Brad Bowman is responsible for population health, ACO, and patient engagement strategies. Prior to Healthgrades, he served as Senior Vice President of Clinical Innovation for WebMD, where he was responsible for developing novel web and mobile technologies that make the use of medications and medical devices safer and more effective. An Internist by training, Dr. Bowman applies computer simulation techniques and electronic forms of data collection and communication to assist patients and physicians make better healthcare diagnoses and treatment decisions.
At WebMD, Dr. Bowman developed WebMD Symptom Checker®, HealthCheck®, Patient Care Services (Clinical CRM), Vaccine Tracker®, and HealthMaps® a real-time geo-syndromic bio-surveillance detection and media targeting system; and many other personalized diagnostic, sub-type, staging, treatment options, and therapeutic response measurement applications.
Prior to joining WebMD, Dr. Bowman practiced Internal Medicine and founded WellMed (now WebMD Health Services) where he led the development of the HealthQuotient® HRA, AssessPlus®, Personal Health Manager® and other advanced online risk stratification and health tracking/feedback tools that provide predictive modeling and outcomes measures of individual and population health intervention strategies.
In 2001, he received a gubernatorial appointment to serve as commissioner for Oregon's Evidence-based Practitioner-Managed Prescription Drug Plan.
Dr. Bowman received his medical training at the University of Washington and board certification in Internal Medicine. He formerly served as Chairman of the Division of Internal Medicine for Legacy Portland Hospitals.