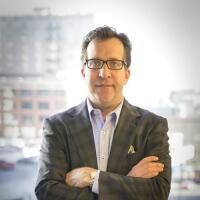 Brad Graner
President and Cofounder, Marketplace
Brad leads Healthgrades' Marketplace Division, where he has been instrumental in turning Healthgrades into the most trusted brand for helping Americans connect with the right healthcare provider. This year, over 50% of Americans who see a doctor will benefit from Healthgrades.com. Previously, Brad co-founded inHealth, a provider of digital engagement solutions that merged with Healthgrades in 2010.
From 1999 to 2007, Brad was Senior Vice President, Strategic Development at WebMD. He played an integral role in defining its business model, taking it public, and establishing it as a leading provider of health information. Brad helped lead the growth in WebMD's online advertising sales from zero to more than $150 million by creating innovative product offerings and delivering measurable value.
Previously, Brad was a consultant with McKinsey & Company and an investment banker with Morgan Stanley. He holds an MBA from the Wharton School of the University of Pennsylvania, where he was a Palmer Scholar. He also holds a Bachelor's degree in Economics from the University of Georgia. Brad and his wife Erin live with their two children in Atlanta, Georgia.